Zao volcano
Actualizado: 12 ago. 2022 12:08 GMT -
Refresh
Volcán criticos 1841 m / 6,040 ft
Honshu (Japón), 38.14°N / 140.44°E
Current status: normal or dormant (1 out of 5)
Last update: 21 dic 2021 (Smithsonian / USGS Weekly Volcanic Activity Report)

Zao (or Zaozan, Zaosan) volcano is the most active volcano of northern Honshu and consists of a group of stratovolcanoes forming the crest of the divide between the Pacific Ocean and the Japan Sea.
The older parts of the complex are Ryuzan volcano in the west and Byobu and Fubo volcanoes forming the southern group. Zao volcano proper (Chuo-Zao) is the youngest edifice and forms the central part of the group. One of its youngest summit lava domes is Goshiki-dake, which contains the active Okama crater, the source of most of the frequent historical eruptions recorded since the 8th century AD.
Okama crater contains a colorful, strongly acidic crater lake (pH 1.3).
Typical eruption style:
explosivo (freático)
Erupciones del volcán Zao:
1940, 1939 (?), 1927 (?), 1905, 1897 (?), 1896, 1895, 1895, 1894, 1890 (?), 1873, 1867, 1833, 1831, 1830, 1822, 1821, 1809, 1806, 1804, 1796, 1794, 1694, 1670, 1669, 1668, 1641, 1630, 1623-24, 1622, 1620, 1400 ± 100 years (radiocarbon), 1350 (?), 1331-33 (?), 1230, 1227, 1183, 884, 773 (?), 300 AD ± 200 (RC), 1600 BC (?, RC), 2000 BC ± 500 (tephrochronology), 2300 BC ± 75 (RC), 2600 BC ± 200 (RC), 3350 BC ± 50 (RC), 3850 BC ± 200 (RC), 4150 BC ± 200 (RC), 5500 BC (?, RC), 5600 BC (?, RC), 7600 BC (?, RC)
Lastest nearby earthquakes:
No hay terremotos recientes
Background
The Pleistocene Ryuzan volcano forms the western Zao group (Nishi-Zao), and Byobu and Fubo volcanoes form the southern Zao group (Minami-Zao). The complex was constructed over granitic basement rocks as high as 1500 m and thus has a relatively small volume. The 7 cu km Zao volcano proper forms the central ao group (Chuo-Zao), a volcanic complex topped by several lava domes and the Goshiki-dake tuff cone, aligned along a NW-SE trend. Several episodes of edifice collapse produced debris avalanches during the Pleistocene.
Zao Fotos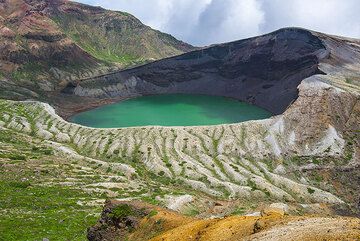 El verde volcán Okama cráter lago de Zao, NE de Honshu, Japón (Photo: Tom Pfeiffer)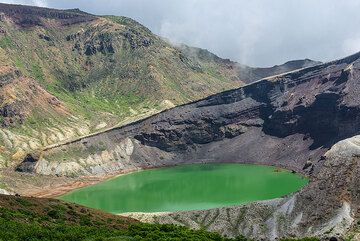 Okama crater lake, Zao volcano, Japan (Photo: Tom Pfeiffer)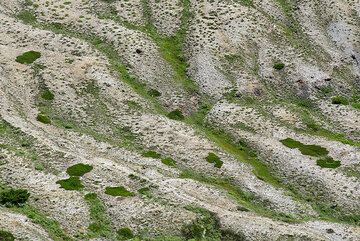 Erosion gullies at the outer slopes of the inner crater containing the Okama lake, Zao volcano, Japan (Photo: Tom Pfeiffer)
Lava flows and pyroclastic layers exposed in the crater walls of Zao volcano (Photo: Tom Pfeiffer)
1992 earthquake
A M 4.7 earthquake occurred at 17h58 local time on 1 September a few kilometers ESE of the summit. There were no visible changes.
1990 seismic swarm
In July 1990, many small earthquakes were detected below the summit of Zao volcano.
(GVP)
1867 phreatic eruption and fatalities
On 21 Oct 1867, a phreatic eruption caused an overflow of muddy water from Okama crater lake, which killed 3 bathers who were in the hot springs at the foot of Goshiki-dake. ...
màs

See also: Sentinel hub | Landsat 8 | NASA FIRMS