Etna Volcano Volcanic Ash Advisory: ERUPTION AT 20200926/1413Z SIGNIFICANT ASH OCCURS UP TO 4 KM ASL
Sat, 26 Sep 2020, 14:45
14:45 PM | BY: VN
Volcanic Ash Advisory Center Toulouse (VAAC) issued the following report:
FVXX01 at 14:38 UTC, 26/09/20 from LFPW
VA ADVISORY
DTG: 20200926/1437Z
VAAC: TOULOUSE
VOLCANO: ETNA 211060
PSN: N3744 E01500
AREA: ITALY
SUMMIT ELEV: 3330M
ADVISORY NR: 2020/21
INFO SOURCE: INGV VONA, WEBCAM
AVIATION COLOUR CODE: RED
ERUPTION DETAILS:ERUPTION AT 20200926/1413Z SIGNIFICANT ASH OCCURS UP
TO 4 KM ASL
OBS VA DTG: 26/1430Z
OBS VA CLD: VA NOT IDENTIFIABLE FM SATELLITE DATA WIND FL100
290/40KT
FCST VA CLD +6 HR: 26/2030Z NOT PROVIDED
FCST VA CLD +12 HR: 27/0230Z NOT PROVIDED
FCST VA CLD +18 HR: 27/0830Z NOT PROVIDED
RMK: VA NOT DETECTABLE ON SAT IMAGERY DUE TO CLOUD MASK.
NXT ADVISORY: NO LATER THAN 20200926/1530Z=
Previous news
More on VolcanoDiscovery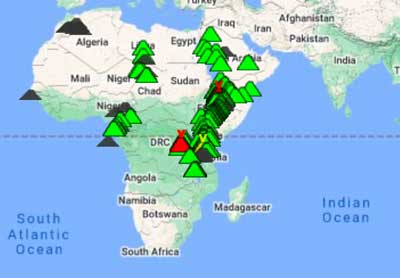 List and map of all volcanoes in Africa. Most volcanoes are located in the Great Rift Valley, but there are more.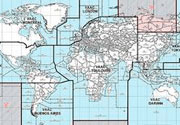 Volcanic Ash Advisory Centres
: Much current eruption news is provided by the 9 Volcanic Ash Advisory Centres (VAAC) distributed around the globe. The VAACs provide a vital service for aviation safety.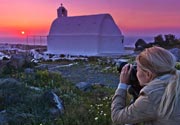 Photo Expeditions & Photography Tours
: We offer you a fine selection of photo tours to exceptional places guided by experienced photographers. These tours are ideal if you are interested in learning or improving photography or, if you are an experienced photographer yourself, to get to the best locations at the best times.