Etna volcano updates and eruption news:
Etna volcano (Italy): new effusive and explosive activity at New SE crater
Tue, 4 Feb 2014, 17:16
17:16 PM | BY: TOMPFEIFFER
The new lava flow and an ash emission from the New SE crater
After a short pause with likely no (or almost no) eruptive activity during 1-2 Feb, the volcano started renewed lava effusion from the fissure vent at the eastern foot of the New SE crater yesterday, followed by the onset of weak explosive activity(ash emissions) from the New SE crater this afternoon.
So far, this activity has been very weak and the lava flow progressed only a few 100 m. The tremor signal is low and doesn't show a clear trend at the moment.
Previous news
More on VolcanoDiscovery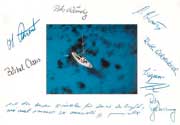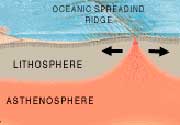 Divergent plate boundaries in oceans
: Two ocean plates move apart from each other. Hot upwelling mantle material forms magmas that continuously produce new oceanic crust. An ocean widens.
Photos from Kilauea volcano: lava flowing into the sea