Etna volcano updates and eruption news:
Etna volcano update: Strombolian activity from SE crater calms down; lava flows into the Valle del Bove generated small pyroclastic flows.
Wed, 22 Mar 2017, 01:35
01:35 AM | BY: EMANUELA
A steam ring from New SE crater drifts in the sky against a large ash plume (Photo: Emanuela / VolcanoDiscovery Italia)
A small pyroclastic flow at the flow front (Photo: Emanuela / VolcanoDiscovery Italia)
Lava flow into the Valle del Bove with an ash plume from a small pyroclastic flow. (Photo: Roland / VolcanoDiscovery Italia)
Ash and steam plume from a pyroclastic flow view from the south. (Photo: Roland / VolcanoDiscovery Italia)
On Saturday late in the morning the explosive activity from the SE crater stopped.
From that moment on the activity became mainly effusive, although some weak strombolian explosions and ash emissions were observed for short periods at the upper vent.
A series of small pyroclastic flows occurred along the steep western wall of the Valle del Bove caused by the unstable ground and the interaction of the lava with patches of remaining winter snow.
The most violent sequence of pyroclastic flows occurred at around half past four on Saturday afternoon when part of the western headwall collapsed, resulting in large ash and steam plume.
Currently the lava flows remain very weakly active with the most advanced front reaching about 2850m ASL toward mount Frumento Supino.
Night-time glow continue to be observed at the Voragine crater. It has become more intense yesterday night and seems to have decreased again today.
Tremor has descended back to low levels.
Previous news
More on VolcanoDiscovery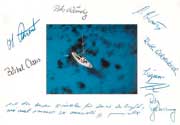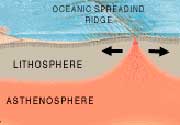 Divergent plate boundaries in oceans
: Two ocean plates move apart from each other. Hot upwelling mantle material forms magmas that continuously produce new oceanic crust. An ocean widens.
Photos from Kilauea volcano: lava flowing into the sea