Etna volcano updates and eruption news:
Etna volcano update: Continuing ash emissions from Bocca Nuova and NE crater
Tue, 29 Jan 2019, 13:43
13:43 PM | BY: T
Ash emissions from Etna this morning from Bocca Nuova visible in backgroun, with the SE crater in front (image: LAVE webcam)
The activity at the volcano continues with pulsating, often strong ash emissions from the NE and Bocca Nuova craters at intervals of few minutes.
However, seismic activity remains low and there are currently no indications that these ash emissions (even though they are quite spectacular sometimes) are caused by fresh magma rising and might herald possible new activity in the near future.
More likely, they reflect internal adjustments of the conduits and internal reservoirs still drained by the flank eruption on Christmas 2018 (i.e. the ashes could be largely from fragmented older material).
Previous news
More on VolcanoDiscovery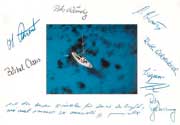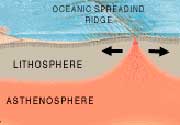 Divergent plate boundaries in oceans
: Two ocean plates move apart from each other. Hot upwelling mantle material forms magmas that continuously produce new oceanic crust. An ocean widens.
Photos from Kilauea volcano: lava flowing into the sea