Etna volcano updates and eruption news:
Etna Volcano Volcanic Ash Advisory: ERUPTION FROM 1007Z OBS VA DTG: 02/1000Z
Tue, 2 Jul 2019, 10:45
10:45 AM | BY: VN
Volcanic Ash Advisory Center Toulouse (VAAC) issued the following report:
FVXX01 at 10:42 UTC, 02/07/19 from LFPW
VA ADVISORY
DTG: 20190702/1017Z
VAAC: TOULOUSE
VOLCANO: ETNA 211060
PSN: N3744 E01500
AREA: ITALY
SUMMIT ELEV: 3330M
ADVISORY NR: 2019/47
INFO SOURCE: INGV
AVIATION COLOUR CODE: YELLOW
ERUPTION DETAILS: ERUPTION FROM 1007Z
OBS VA DTG: 02/1000Z
OBS VA CLD: VA NOT IDENTIFIABLE FM SATELLITE DATA WIND SFC/FL200
090/15KT FL200/350 045/20KT
FCST VA CLD +6HR: 02/1600Z NO VA EXP
FCST VA CLD +12HR: 02/2200Z NO VA EXP
FCST VA CLD +18HR: 03/0400Z NO VA EXP
RMK: ERUPTION FROM 1007Z. SMALL ASH EMISSIONS
NXT ADVISORY: NO FURTHER ADVISORIES
=
Previous news
More on VolcanoDiscovery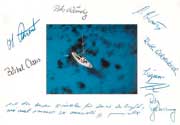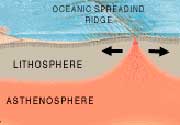 Divergent plate boundaries in oceans
: Two ocean plates move apart from each other. Hot upwelling mantle material forms magmas that continuously produce new oceanic crust. An ocean widens.
Photos from Kilauea volcano: lava flowing into the sea