Fayal volcano news & activity updates:
More on VolcanoDiscovery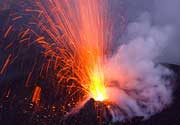 Climbing Stromboli volcano
: Stromboli provides one of the most remarkable opportunities to watch volcanic eruptions from close: a natural ridge located 150 m above the active vents. A classic and all-time favorite tour by anyone interested in seeing active volcanoes!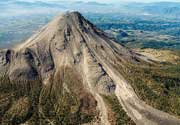 Colima volcano photos
: This beautiful stratovolcano in western Mexico is one of the most active volcanoes on the American continents. It is known for its often spectacular explosions and sometimes glowing avalanches.
Volcano Videos on YouTube
: Our YouTube channel: volcanic activity world-wide shown through videos taken during our volcano tours and expeditions complimented by some time-lapse videos from webcams.