Filicudi volcano
Updated: Aug 12, 2022 23:24 GMT -
Refresh
Stratovolcano(es) 773 m / 2536 ft
Eolian Islands, Italy, 38.58°N / 14.55°E
Current status: (probably) extinct (0 out of 5)
Typical eruption style:
unspecified
Filicudi volcano eruptions:
None during the past 10,000 years
Less than 2.58 million years ago (Pleistocene)
Lastest nearby earthquakes:
Time
Mag. / Depth
Distance/Location
Sunday, August 7, 2022 GMT (1 quake)
Aug 7, 2022 8:31 am (GMT +2)

(Aug 7, 2022 06:31 GMT)




1.3


5 km
19 km (12 mi)
Italy: Isole Eolie (Messina)
Saturday, August 6, 2022 GMT (1 quake)
Aug 6, 2022 5:52 am (GMT +2)

(Aug 6, 2022 03:52 GMT)




2.4


165 km
30 km (19 mi)
Tyrrhenian Sea, 24 km north of Capo d'Orlando, Italy
Saturday, July 30, 2022 GMT (1 quake)
Jul 30, 2022 3:01 am (GMT +2)

(Jul 30, 2022 01:01 GMT)




1.3


7.3 km
23 km (14 mi)
Italy: Isole Eolie (Messina)
Background
Filicudi was formed from the coalescence of eruptive centers that developed as part of a NW-SE elongated volcanic complex (Peccerillo, 2005; Guest et al., 2003). It's volcanic structures include basaltic to andesitic composite cones and dacitic domes, lava flows, and pyroclastics (Peccerillo, 2005). The Filicudi rocks also often contain igneous and metamorphic xenoliths (Peccerillo, 2005). Potassium-Argon dates of 0.170 and 0.166 million years were obtained by Capaldi et al. (1985), but Peccerillo (2005) gives a general age range of 440-40 ka. Tephrochronology indicates that the youngest eruptions occurred less than 35,000 years ago (Keller, 1989, pers. comm.). The Eruptive history is generally broken into four phases. The first (1.02 Ma) consisted of pyroclastic eruptions followed by lava flows. The second (390 ka) produced lava flows. The third is responsible for the construction of Fossa Felci, the main volcanic edifice on the island, and the production of basaltic andesitic lavas and pyroclastics. The fourth (40 ka) involved explosive activity from Fossa Felci, creating pumiceous pyroclastics (Guest et al., 2003).
---
Smithsonian / GVP volcano information
Filicudi Photos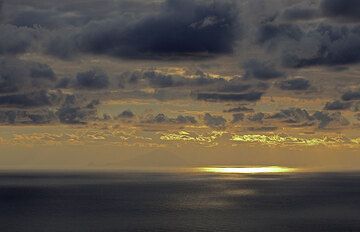 Sunset from Stromboli, in the distance, Filicudi Island is seen. (Photo: Tom Pfeiffer)
Sunset with the silhouette of the Eolina islands Alicudi and Filicudi, viewed from the 400m viewpoint along the Sciara del Fuocco, 13 January 2013 (Photo: Ingrid)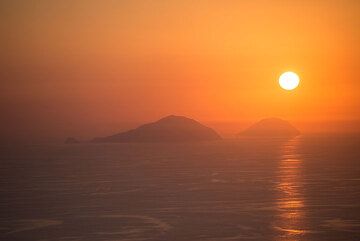 Sunset behind Filicudi (l) and Alicudi (r) islands. (Photo: Tom Pfeiffer)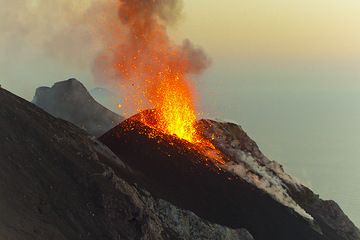 The same eruption, which lasted half a minute, taken with a wider angle, so that the NW hornito-cone is visible. The conical volcanic island of Filicudi in the sunset-dus...

See also: Sentinel hub | Landsat 8 | NASA FIRMS