Toutes les actualités et mises à jour sur les volcans:
jeu., 28 avril 2005, 15:46
Colima Volcano showed an increase in seismic activity during the last days and several explosions occurred during the past days. According to the Washington VAAC, an explosion on 20 April produced an ash plume to a height of ~6.1 km (~20,000 ft) a.s.l. The activity sparked forest fires on the southeastern slopes of the volcano, but no danger was posed to neighbouring communities.
jeu., 28 avril 2005, 15:37
mer., 27 avril 2005, 10:26
Since February the subterminal south east crater has undergone to several rock slidings of its inner walls and a large collapse pit has formed on the E side of the cone.
lun., 18 avril 2005, 22:29
jeu., 14 avril 2005, 16:57
After an increased seismic activity, a small volcanic eruption was observed at Mt. Aso volcano, Japan, in the Kumamoto Prefecture, about 900 km southwest of Tokyo. According to the Fukuoka District Meteorological Observatory, tiny amounts of gray-white volcanic ash fell near the No. 1 crater of the 1,506-meter volcano around 10 a.m. on 14 April, 2005.
Read more...
lire toutes
jeu., 14 avril 2005, 14:35
mer., 13 avril 2005, 16:47
Tangkuban Parahu, a volcano in west Java very near the regional capital Bandung (2 million inhabitants) might be coming back to life very soon. The Volcanological Survey of Indonesia has raised the alert level and reports strongly increased seismicity, and strong emission of sulphuric gasses since today. Access to the volcano is fobidden.

Read more...
mer., 24 févr. 2010, 12:42
mar., 12 avril 2005, 14:45
3 May, 2005:
Canlaon continues to produce mild steam and ash clouds, which rise up to around 5-700 m above the active crater and sometimes causing problems with local air traffic and shutdown of nearby airports. 
Read more...
lire toutes
sam., 9 avril 2005, 21:10
Show more news
Dernier image webcam volcans
Plus sur VolcanoDiscovery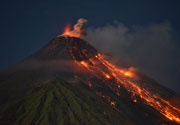 Volcano Eruption Special
: 11-16 Feb 2019: short-notice special tour to see the ongoing eruption of Karangetang volcano in northern Indonesia. Starting and ending in Manado. Small group 2-6 people, experienced volcano expedition leader from our team (Andi).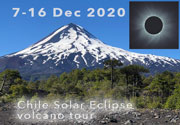 Solar Eclipse & volcano tour
: A total solar eclipse will occur on 14 Dec 2020 and pass over southern Chile and Argentina. Chile's most active volcano Villarrica is located exactly on the center line where the eclipse will be best to observe.
We offer you the unique chance to combine the eclipse with a tour to one the world's most beautiful volcanic areas - the Lake District in Chile.