Toutes les actualités et mises à jour sur les volcans:
dim., 16 déc. 2007, 10:42
Suzanne De Berge emailed the following message regarding a notable increase in activity at Fuego volcano:
Read more...
sam., 15 déc. 2007, 13:08
sam., 15 déc. 2007, 13:03
The volcanic unrest at Turrialba seems to intensify, and signs of a possible new eruption in the near to medium future are getting stronger: According to OVSICORI-UNA a gas-and-steam plume from Turrialba rose to an altitude greater than 5.3 km (17,400 ft) a.s.l. on 5 December. Fieldwork confirmed an unusual output of gas from several fumaroles along the S outer wall. Areas burned by acute acidification have extended in the last month. Pastures turned yellowish near the upper areas, and native and exotic tree species were impacted as well as birch tree patches along most drainages. Within the W crater, temperatures of fumaroles reached 280 degrees Celsius and native sulfur was present.
Read more...
mar., 11 déc. 2007, 01:15
mer., 24 févr. 2010, 12:32
Le volcan Talang est de plus en plus actif, si l'on en juge d'après les observations visuelles et la sismicité. Des panaches de cendres et de vapeur à partir de multiples cratères se sont élevés à une altitude de 3.1-4.1 km (10,200-13,500 ft) durant 27-29 Novembre. Une forte odeur de gaz de dioxyde de soufre a également été rapportés. Les visiteurs et les touristes ont été avisés de ne pas aller dans un rayon de 3 km du sommet.
Read more...
jeu., 6 déc. 2007, 12:58
In the recent days, Popocatepetl has been more active than usual. On 1 December, a larger explosion occurred and produced ash plume that rose to an altitude of 7.4 km (24,300 ft) a.s.l. and drifted N and then NE. Ashfall was reported in areas downwind. Based satellite observations from the Washington VAAC, the ash plume rose to an altitude of 9.1 km (30,000 ft) a.s.l.
jeu., 6 déc. 2007, 12:55
There's new activity at Anatahan volcano. USGS reports small explosions occurring during the last week of November, accompanied by an increase in seismic activity.
jeu., 1 janv. 1970, 00:00
dim., 18 nov. 2007, 10:37
Ubinas volcano continues to produce sporadic explosions with ash plumes rising to altitudes of about 5-7 km (16,000-23,000 ft) a.s.l.
Read more...
lire toutes
dim., 18 nov. 2007, 10:28
Show more news
Dernier image webcam volcans
Plus sur VolcanoDiscovery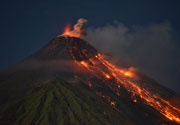 Volcano Eruption Special
: 11-16 Feb 2019: short-notice special tour to see the ongoing eruption of Karangetang volcano in northern Indonesia. Starting and ending in Manado. Small group 2-6 people, experienced volcano expedition leader from our team (Andi).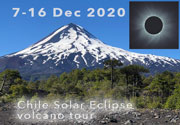 Solar Eclipse & volcano tour
: A total solar eclipse will occur on 14 Dec 2020 and pass over southern Chile and Argentina. Chile's most active volcano Villarrica is located exactly on the center line where the eclipse will be best to observe.
We offer you the unique chance to combine the eclipse with a tour to one the world's most beautiful volcanic areas - the Lake District in Chile.