Toutes les actualités et mises à jour sur les volcans:
jeu., 1 janv. 1970, 00:00
L'activité à l'Anak Krakatau a été s'apaiser à quelques explosions petites et la croissance d'un dôme de lave dans le cratère de nouvelles nouvelles a ralenti.
jeu., 1 janv. 1970, 00:00
ven., 17 juil. 2009, 23:38
Les éruptions effusives au flanc NE de l'Etna ont pris fin le soir du 6 juillet 2009 après 14 mois d'activité modérée à faible d'émissions de lave, selon les sources d'informations de Boris Behncke - rapports sur son site Flickr.
Read more...
lun., 15 juin 2009, 20:58
mar., 2 juin 2009, 11:17
Read more...
jeu., 1 janv. 1970, 00:00
L'activité d'Anak Krakatau est en augmentation. L'observation directe du cratère à la fin avril a révélé une forte activité strombolienne d'un évent à l'intérieur du cratère de l'éruption 2007-2008 construction d'un nouveau cône de scories à l'intérieur de ce cratère. Nous envisageons de revoir le volcan dans la première semaine de Juin pour plus d'observations.
jeu., 1 janv. 1970, 00:00
Une forte éruption explosive a eu lieu au volcan Chiveloutch le 1er mai 2009, envoyer un nuage de cendres à 5 km au-dessus du volcan. L'éruption suivie d'une semaine de sismicité accrue et pourrait être le début d'une phase éruptive plus forte.
lun., 27 avril 2009, 15:44
mer., 11 nov. 2009, 11:26
Depuis vendredi de la semaine dernière, l'accès au Sommet de Stromboli est ré-ouvert. Forte activité continue en provenance de plusieurs évents au niveau du Cratère.
jeu., 1 janv. 1970, 00:00
Il Est du signal, Qué Fortes ruptions du volcan La Cumbre de dfinir les espces rares d'animaux sur l'le de Galpagos en danger. Lave s'coule Vers la Mer et des ruptions Fortes soi Produire.
Show more news
Dernier image webcam volcans
Plus sur VolcanoDiscovery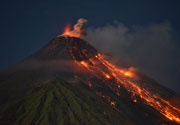 Volcano Eruption Special
: 11-16 Feb 2019: short-notice special tour to see the ongoing eruption of Karangetang volcano in northern Indonesia. Starting and ending in Manado. Small group 2-6 people, experienced volcano expedition leader from our team (Andi).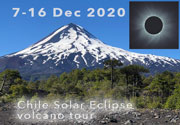 Solar Eclipse & volcano tour
: A total solar eclipse will occur on 14 Dec 2020 and pass over southern Chile and Argentina. Chile's most active volcano Villarrica is located exactly on the center line where the eclipse will be best to observe.
We offer you the unique chance to combine the eclipse with a tour to one the world's most beautiful volcanic areas - the Lake District in Chile.