Boomerang Seamount volcan
Submarine volcano -650 m / - 2,133 ft
France, Southern Indian Ocean, -37.72°S / 77.83°E
Condition actuelle
:
normal / en sommeil
(1 sur 5) |
Reports
Boomerang Seamount livres
Introduction:
An active submarine volcano 18 km NE of Amsterdam Island was first discovered during a bathymetric survey in 1996. The volcano, named Boomerang Seamount, rises to within 650 m of the sea surface and has a 2-km-wide summit caldera that is 200 m deep. Rift zones extend SE and north of the basaltic volcano, giving it an arcuate shape. Boomerang Seamount lies along the axis of the Southeast Indian Ridge and marks the site of the Amsterdam-St. Paul hotspot. This hotspot may have been the source of the Ninetyeast Ridge submarine volcanoes on the Australian Plate prior to its "capture" by the Southeast Indian Ridge, after which volcanism was restricted to the Antarctic Plate. Very short half-life radionuclide dating of fresh volcanic glass samples recovered during the 1996 expedition indicated that Boomerang Seamount had erupted only about 5 months earlier (Johnson et al., 2000). Water column temperature anomalies above the seamount suggest the presence of hydrothermal activity within the caldera.
---
Smithsonian / GVP volcano information
See also:
Sentinel hub
|
Landsat 8
Plus sur VolcanoDiscovery: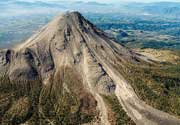 Colima volcano photos
: This beautiful stratovolcano in western Mexico is one of the most active volcanoes on the American continents. It is known for its often spectacular explosions and sometimes glowing avalanches.