Calbuco volcano news & activity updates:
Mon, 27 Jun 2016, 10:31
The alert level was raised a notch last week, as volcanologists from SERNAGEOMIN started to record a significant increase in seismicity associated with a slight inflation of the volcanic edifice,- typical signs of magma intrusion at depth under the volcano.
...plus
lire toutes
Thu, 4 Jun 2015, 11:05
Thu, 21 May 2015, 11:05
Activity has decreased gradually during the past weeks. Only degassing has been occurring at the summit vents lately and tremor levels show a decline.
...plus
Thu, 30 Apr 2015, 21:47
Mon, 27 Apr 2015, 08:14
Activity has been lower yesterday, but weak ash emissions continued at least intermittently.
...plus
lire toutes
Sat, 25 Apr 2015, 08:59
Fri, 24 Apr 2015, 22:26
...plus
lire toutes
Fri, 24 Apr 2015, 07:50
Thu, 23 Apr 2015, 19:10
The 21 y-o mountaineer who was missing and feared victim of the eruption has survived and has been rescued, fortunately. Together with a small group of friends, he was on excursion on the mountain when the eruption occurred last night.
...plus
Thu, 23 Apr 2015, 18:04
Thu, 23 Apr 2015, 11:30
...plus
lire toutes
Plus sur VolcanoDiscovery:
If you find the website useful and would like to support us and help keep it alive and improve it, please consider
making a small donation
.
Thank you!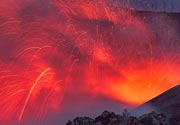 Volcanoes & Spices
: This 17-days adventurous expedition is one of our most exciting volcano tours! Visit Halmahera, North Sulawesi and the Sangihe Islands with some of Indonesia's most active volcanoes, including Dukono, Ibu, Lokon, Soputan and Karangetang.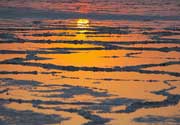 Ethiopia and the Danakil
: Ethiopia is a very diverse and beautiful country. Thanks to our numerous
expeditions to Erta Ale and Dallol
and beyond, we have an extensive collection of images showing the volcano's lava lake, the desert, the colorful hot springs of Dallol, the vast salt lakes, camel caravans and more.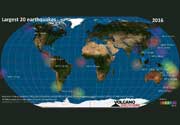 Top 20 quakes in 2016
: Several magnitude 7 quakes occurred in 2016 (but none above M8): Papua New Guinea, NZ, Ecuador, Solomon Islands, Sumatra, Chile, Alaska and others - nearly all major earthquakes were located near active subduction zones.
See the top 20 list of largest quakes in 2016 with this map.