Crater Lake volcan
caldeira 2487 m / 8,159 feet
Oregon (Canada and USA (mainland)), 42.93°N / -122.12°W
Condition actuelle: normal / en sommeil (1 sur 5)
Crater Lake in the southern Cascade Range of Oregon, USA, is one of the most beautiful calderas in the world. It formed by the collapse of a massive stratovolcano known as Mount Mazama about 6850 years ago. The caldera measures 8x10 km in diameter and is filled with a lake of up to 600 m depth.
A small island, Wizzard Island, is a cinder cone that grew after the formation of the caldera. The caldera is part of Crater Lake National Park.
Montrer carte interactive
Style éruptif tipique:
Explosive
Eruptions du volcan Crater Lake:
2850 BC (?), 7627±150 years ago
Derniers séismes proches:
No recent earthquakes
Introduction
Prior to the formation of the caldera, Mount Mazama was a complex of overlapping shield and stratovolcanoes. It is located at the north end of the Klamath graben on the main N-S trending axis of the Cascades volcanoes.
The earliest stage of volcanism of Mazama volcano constructed at least five andesitic and dacitic shields and stratovolcanoes between about 420-40,000 years ago. A second phase of activity took place between 30,000 years ago and the caldera-forming eruption, building rhyodacitic lava domes and flows and associated pyroclastic rocks.

Caldera-forming eruption of Mount Mazama
The explosive eruptions (dated 5677 BC ± 150 years) triggering the collapse of the caldera was one of Earth's largest known eruptions in the past 10,000 years. It erupted about 50 cubic km3 of magma and ranks as VEI=7. Ash from the eruption was deposited as far as Canada and producing pyroclastic flows traveled 40 km from the volcano.
The deep blue lake is North America's second deepest lake, masuring almost 600 m. It fills the caldera to within 150-600 m of its rim.
Post-caldera eruptions took place within a few hundred years of caldera formation and constructed a series of small lava domes on the caldera floor, forming Wizard Island cinder cone, and the completely submerged Merriam Cone.
The latest eruptions produced a small rhyodacitic lava dome beneath the lake surface east of Wizard Island about 4200 years ago.
Crater Lake Photos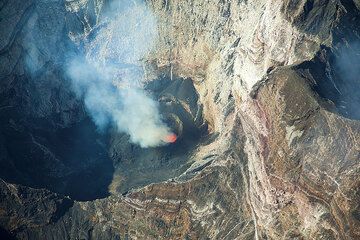 Vue claire sur le lac de lave dans le Marum (cratère ouest). (Photo: Tom Pfeiffer)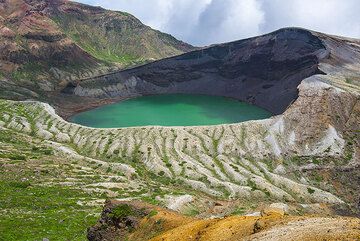 The green Okama crater lake of Zao volcano, NE Honshu, Japan (Photo: Tom Pfeiffer)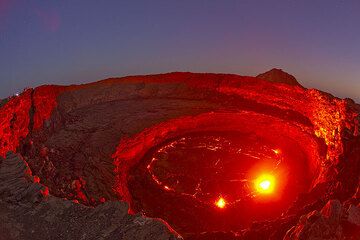 Erta Ale volcano's lava lake back in Nov 2009.
The red glow of the lava illuminates the crater walls under the blue sky of dusk. A small group of observers is on ...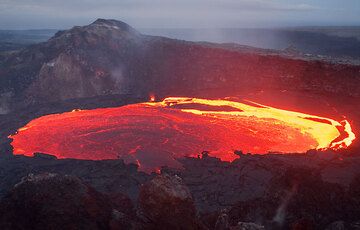 Lac de lave à l'intérieur du cratère de Gap ouest du volcan Kilauea. La croûte entière couvrant le lac a juste été renversée, exposant l'intérieur éclatant de red hot. ha...

See also: Sentinel hub | Landsat 8 | NASA FIRMS