Dukono volcano news & eruption updates
Dukono volcano (Halmahera, Indonesia) activity update
jeudi août 21, 2014 15:27 | AUTEUR : T
Ash emissions were observed on satellite imagery this morning. An ash plume at estimated 8,000 ft (2.4 km) altitude extended 20 nautical miles to the north of the volcano.
Actualités précédentes
Plus sur VolcanoDiscovery
If you find the website useful and would like to support us and help keep it alive and improve it, please consider
making a small donation
.
Thank you!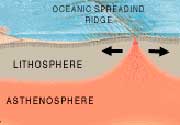 Divergent plate boundaries in oceans
: Two ocean plates move apart from each other. Hot upwelling mantle material forms magmas that continuously produce new oceanic crust. An ocean widens.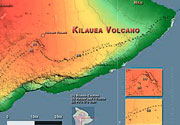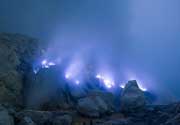 Ijen volcano photos
: Ijen volcano in East Java is famous for its turquoise acid crater lake and the large sulfur deposits that are being mined by local workers. At night, the scene is illuminated by ghostly blue flames, as sulfur ignites.