See also:
Monthly reports
Earthquake News and Global Seismic Reports
World Earthquake Report for Wednesday, 9 September 2020
jeudi sept. 10, 2020 00:24 | AUTEUR : EARTHQUAKEMONITOR
Worldwide earthquakes above magnitude 3 during the past 24 hours on 10 Sep 2020
Summary: 5 quakes 5.0+, 41 quakes 4.0+, 93 quakes 3.0+, 203 quakes 2.0+ (342 total)
Magnitude
5
+: 5 earthquakes
Magnitude
4
+: 41 earthquakes
Magnitude
3
+: 93 earthquakes
Magnitude
2
+: 203 earthquakes
No quakes of magnitude
6
or higher
Total seismic energy estimate: 6 x 10
13
joules (16.8 gigawatt hours, equivalent to 14441 tons of TNT or 0.9 atomic bombs!) [
learn more
]
List of 10 largest earthquakes in the world (9 Sep 2020):
#1:
5.7 quake: Talaud Islands, Indonesia, 9 Sep 2020 07h18
#2:
5.5 quake: Talaud Islands, Indonesia, 9 Sep 2020 03h41
#3:
5.4 quake: Solomon Islands (Papua New Guinea), 9 Sep 2020 10h57
#4:
5.1 quake: Samoa Islands Region (Tonga), 9 Sep 2020 22h55
#5:
5.0 quake: 421 Km Al Noreste De Ustupo, Panamá (Colombia), 9 Sep 2020 07h36
#6:
4.9 quake: 17 Km al oeste de Puerto Armuelles, Panamá (Costa Rica), 9 Sep 2020 04h31
#7:
4.8 quake: Kuril Islands (Russia), 9 Sep 2020 14h24
#8:
4.8 quake: Borneo (Indonesia), 9 Sep 2020 16h24
#9:
4.8 quake: South Shetland Islands (Antarctica), 9 Sep 2020 20h37
#10:
4.7 quake: Philippine Islands Region (Indonesia), 9 Sep 2020 10h25
Earthquakes reported felt:
#1:
3.1 quake: 2 Km SSE of East Freehold, New Jersey (USA), 9 Sep 2020 06h00
-
658 reports
At 2 am this morning local time, a small tremor shook the ground 2 Km SSE of East Freehold, New Jersey. The quake measured 3.1 magnitude and was shallow at 5 km (3 miles) depth. Therefore, it could be widely felt as weak to light shaking in distances of up to 30-40 miles, especially under calm conditions (no traffic nearby etc).
Even downtown New York City including Manhattan at approx. 40 miles distance, could feel the quake. In fact, thousands of people immediately reported to USGS about this for the area very rare event.
In fact, earthquakes in New York and New Jersey are very rare, but small ones of magnitudes around 3 do occur every few years or so. Due to the small magnitude, they pose no danger.
See also:
Earthquakes in New Jersey
So far, within less than 2 hours after the tremor occurred, more than 700 people have reported to us about the quake which for them occurred in the middle of the night. We thank all of them!
Within 15-20 miles of the epicenter, shaking was seems to have been quite noticeable, which is actually surprising for such a small magnitude event. On the other hand, because it was in an area where there are usually no earthquakes, people might be more surprised by it, while such a tremor in California would hardly be worth mentioning.
One user reported hearing a loud rumbling that lasted for at least 10 seconds and sounded like a low-flying jet plane. Shaking of the quake was felt like a soft vibration, which is typical for small earthquakes of this magnitude and type.
#2:
3.5 quake: Greece, 9 Sep 2020 08h58
-
6 reports
#3:
3.9 quake: New Zealand, 9 Sep 2020 00h21
-
3 reports
#4:
2.7 quake: 116 Km WSW From Strofades (Greece), 9 Sep 2020 05h26
-
2 reports
#5:
4.2 quake: 28 Km of Qalehqazi, Hormozgan (Iran), 9 Sep 2020 10h42
-
2 reports
#6:
2.2 quake: 7 km N of Nardin, Oklahoma (USA), 9 Sep 2020 16h03
-
2 reports
Earthquake stats:
Number of quakes and energy released vs time
Number of quakes and energy released vs magnitude
Magnitude of quakes and energy released vs time
Actualités précédentes
Plus sur VolcanoDiscovery
Pearl of the Aegean
: Santorini is one of the most beautiful islands in the world. Discover its fascinating natural and cultural history on a relaxed walking study tour with us.
Introduction to Plate Tectonics
: The Earth's upper, rigid layer is broken into several plates which are in constant motion to one another. Most earthquakes and volcanoes occur as result of these plate boundaries.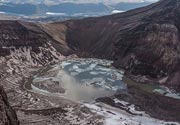 Gorely volcano photos
: Gorely is a young and very active shield volcano in southern Kamchatka. It is one of Kamchatka's easiest volcanoes to climb and offers stunning views into vast craters and the surrounding landscape.