See also:
Monthly reports
Earthquake News and Global Seismic Reports
lun., 31 mars 2014, 13:40
sam., 29 mars 2014, 07:46
jeu., 27 mars 2014, 23:50
mer., 26 mars 2014, 08:49
mer., 26 mars 2014, 03:29
dim., 23 mars 2014, 18:19
sam., 22 mars 2014, 13:29
sam., 22 mars 2014, 12:59
ven., 21 mars 2014, 13:41
mer., 19 mars 2014, 20:17
Show more news
Plus sur VolcanoDiscovery
Pearl of the Aegean
: Santorini is one of the most beautiful islands in the world. Discover its fascinating natural and cultural history on a relaxed walking study tour with us.
Introduction to Plate Tectonics
: The Earth's upper, rigid layer is broken into several plates which are in constant motion to one another. Most earthquakes and volcanoes occur as result of these plate boundaries.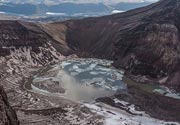 Gorely volcano photos
: Gorely is a young and very active shield volcano in southern Kamchatka. It is one of Kamchatka's easiest volcanoes to climb and offers stunning views into vast craters and the surrounding landscape.