Great mag. 8.2 earthquake - 79km WNW of Iquique, Chile on Tuesday, 1 April 2014
Earthquake waves are fast, but still take time: This is the seismic signal showing the Chile's earthquake waves arriving at one of Etna's seismic stations approx. 7000 miles (11,000 km) away. It took the (fastest P-waves) about 30 minutes to travel almost half of the globe after the quake occurred.
The magnitude 8.2 quakes occurred off shore the Tarapace coast, about 99 km NW of the
city Iquique. A tsunami alarm was issued, and the coastal areas were evacuated. Fortunately, no large tsunami was triggered by the quake (which would have had the power to generate one).
At least 5 people were reported dead and significant damage has occurred in the coastal towns, but much less than what could have been expected had the quake occurred under land or closer to the coast.


According to the German magazine "Focus"
300 prisoners used the chaos resulting from the quake to escape.
Numerous aftershocks have been occurring including a strong magnitude 7.6 quake. Many more aftershocks will likely occur during the coming weeks and months.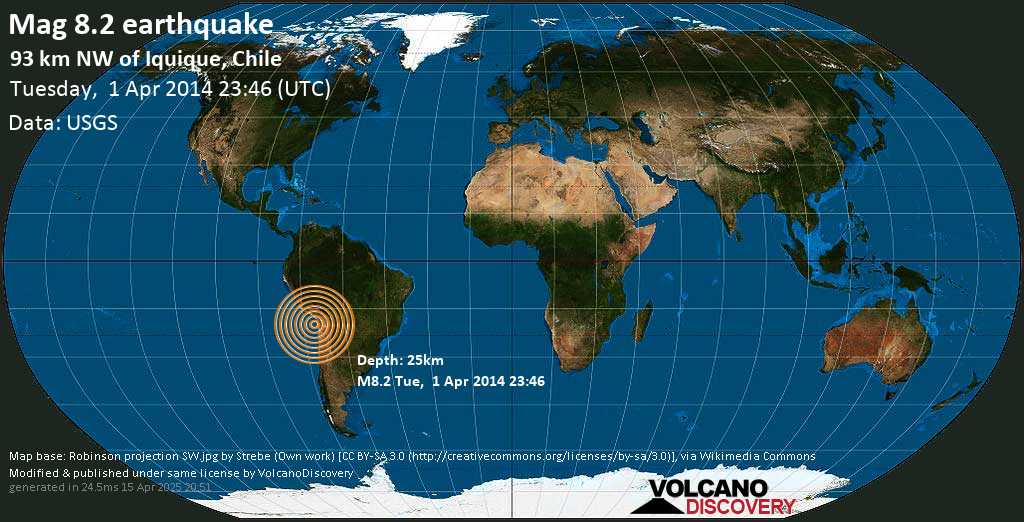 1 Apr 23:56 UTC: Premier à signaler: USGS après 9 minutes.
Date & time: Tuesday, 1 April 2014 23:46 UTC
Local time at epicenter:
Tuesday, April 01, 2014 18:46:46
Magnitude: 8.2
Depth: 20.1 km
Epicenter latitude / longitude: 19.6416°S / 70.8171°W
(
Chili
)
Nearest volcano:
Puchuldiza
(196 km / 122 mi)
Nearby towns and cities:
94 km NW de Iquique
(pop: 227,500)
141 km SW de Arica
(pop: 186,000)
156 km SW de Los Palos
(pop: 200)
158 km SW de Rancho Grande
(pop: 100)
190 km SW de Tacna
(pop: 280,100)
1537 km N de Santiago
(pop: 4,837,300)
Primary data source:
USGS
Estimated released energy: 1.3 x 10
17
joules (34970 gigawatt hours, equivalent to 3 x 10
7
tons of TNT or 1880.6 atomic bombs!) [
learn more
]
Data for the same earthquake reported by different agencies
Info: The more agencies report about the same quake and post similar data, the more confidence you can have in the data. It takes normally up to a few hours until earthquake parameters are calculated with near-optimum precision.
Heure
Mag. / Depth
Location
Source
Tuesday, April 01, 2014 18:46:46

(1 Apr 23:46:46 UTC)

M 8.2 / 20.1 km
95km NW of Iquique, Chile
USGS
Tue, 1 Apr 23:46 UTC
M 8.1 / 34 km
Near Coast of Northern Chile
GFZ
Tue, 1 Apr 23:46 UTC
M 8.0 / 33 km
OFFSHORE TARAPACA, CHILE
EMSC
Tue, 1 Apr 23:46 UTC
M 6.9 / 10 km
Null
GeoAu
Tue, 1 Apr 23:46 UTC
M 8.2 / 20 km
NW of Iquique, Chile
GeoAu
01/04/2014 18:46:47

(1 Apr 23:46:47 UTC)

M 8.2 / 20 km
Peru
IGP
(shakemap: USGS)
User reports for this quake (14)
Aftershocks of the 8.2 quake 95km NW of Iquique, Chile, 1 Apr 2014 23:46 UTC
More info
Recorded aftershocks, latest first (1047 quakes):
Earlier earthquakes in the same area since 1900
Great mag. 8.2 earthquake - 95km NW of Iquique, Chile on Tuesday, 1 April 2014
Hint: Click on Date/Time to show latest first

Date / time UTC

|

Mag

|

Depth

|

Age

|

Distance

| Details

11 Nov 1922 04:32

|

8.5

|

70km / 43mi

|

il y a 98 ans

|

967km / 601mi

| Atacama, Chile

23 Jun 2001 20:33

|

8.4

|

33km / 21mi

|

il y a 19 ans

|

480km / 298mi

| Near the Coast of Southern Peru

09 Jun 1994 00:33

|

8.2

|

631km / 392mi

|

il y a 26 ans

|

733km / 455mi

| La Paz, Bolivia

09 Dec 1950 21:38

|

8.2

|

114km / 71mi

|

il y a 70 ans

|

568km / 353mi

| Antofagasta, Chile

24 Aug 1942 22:50

|

8.1

|

30km / 19mi

|

il y a 78 ans

|

677km / 421mi

| Central Peru

15 Aug 2007 23:40

|

8.0

|

39km / 24mi

|

il y a 13 ans

|

930km / 578mi

| Near the Coast of Central Peru

30 Jul 1995 05:11

|

8.0

|

46km / 28mi

|

il y a 25 ans

|

415km / 258mi

| Antofagasta, Chile

13 Jun 2005 22:44

|

7.8

|

116km / 72mi

|

il y a 15 ans

|

174km / 108mi

| Tarapaca, Chile

04 Dec 1918 11:47

|

7.8

|

40km / 25mi

|

il y a 102 ans

|

767km / 477mi

| Atacama, Chile

14 Nov 2007 15:40

|

7.7

|

40km / 25mi

|

il y a 13 ans

|

305km / 190mi

| Antofagasta, Chile

Show all
Map of earlier quakes
Plus sur VolcanoDiscovery