Moderate mag. 5.8 earthquake - Tajikistan-Xinjiang Border Region on Friday, 12 February 2021 at 17:01 (GMT) - information
-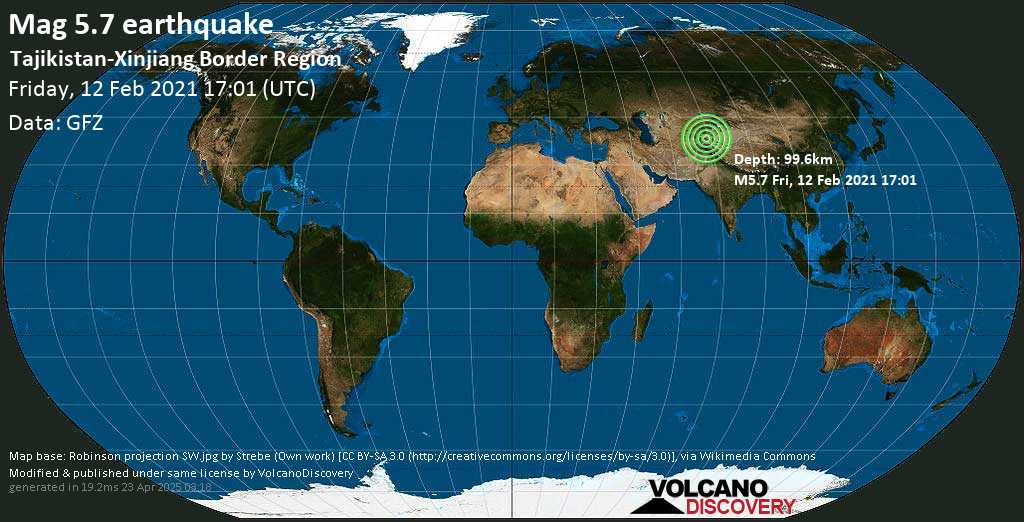 Séisme modéré magnitude 5.8 at 100 km depth
12 Feb 17:08 UTC: Premier à signaler: GFZ après 7 minutes.
12 Feb 17:09: Magnitude recalculée de 6.2 à 6.0. Profondeur recalculée de 91.0 à 86.0 km (de 57 à 53 mi). Emplacement de l'épicentre corrigé de 2.8 km (1.8 mi) au SE.
12 Feb 17:45: Magnitude recalculée de 6.0 à 5.8.
12 Feb 22:32: Profondeur recalculée de 86.0 à 100.0 km (de 53 à 62 mi).
Update Fri, 12 Feb 2021, 21:36
Scary quake may have been felt by millions in Afghanistan, India, Kyrgyzstan, Pakistan and Tajikistan
User reports for this quake on a map
Millions of people in the northern parts of India and Pakistan were awoken by a very noticeable earthquake on Friday evening (February 12, 2021).
The earthquakes epicenter was actually in nearby Tajikistan, yet this relatively deep earthquake at an intermediate 86 km below the surface caused it to be felt as far as New Delhi in India, over 1100 km away, and even further than Bhopal in Central India, some 1600 km away.
Both the Indian and Pakistani sides of Kashmir got shaken significantly, with a huge number of comments coming in to VolcanoDiscovery describing the shaking and panic of people fleeing outdoors. People from Indian cities such as Amritsar, Bathinda, Chandigarh, Gujrat, Gurdaspur, Jaipur, Jammu, Noida, Sopore and Srinagar all reported shaking. Near the city of Mirpur 550 km away from the epicenter, one report wrote "The ground shook side to side then up and down. I ran downstairs with my heart pumping. I took my mother and grandma outside. Very scary. May God have mercy."

Pakistan also felt major shaking with reports coming in from Faisalabad, Gujranwala, Hafizabad, Islamabad, Lahore, Peshawar and Rawalpindi. A report from Lahore wrote "The bed shook violently for at least 10 seconds. At first, I just freaked out and could not figure out the reason for the shaking but became sure that it was an earthquake after my mother came running out of her room, awakened from sleep." A family from Faisalabad even sent in their photo waiting outdoors in the open for possible aftershocks.

Many locations reported objects falling from shelves, beds shaking for as much as 15 seconds, lamps and fans swaying, creaking walls, agitated animals, birds flying from trees or chirping, sounds like thunder, and even people shouting "earthquake". Many thousands ran outdoors, and this could have been in the hundreds of thousands, as the quake was also felt in countries that have poor connectivity to report, with a handful of reports of shaking from Afghanistan and Kyrgyzstan. Weak shaking was also felt in Dushanbe and Khujand in Tajikistan, and moderate shaking was felt in Osh, Kyrgyzstan's second largest city 280 km from the epicenter. While we received no reports from China, the proximity of Xinjiang, the Uygur autonomous region in China relatively close to the epicenter, means that it was almost certainly felt there as well. No immediate aftershocks were reported by seismological agencies in few hours after the quake.
Update Fri, 12 Feb 2021, 17:32
USGS now posts the quake as magnitude 5.9, a bit weaker than the originally reported magnitude 6. So far, we have no clear picture whether there is significant damage and there are no reports yet.
The area of the epicenter is largely unpopulated mountain terrain, part of the mighty Pamir mountains.
It is located in the Badakhshan National Park, part of the Gorno-Badakhshan Autonomous Oblast (GBAO) in southeastern Tajikistan.
Earthquake data:
Date & time: 12 Feb 2021 17:01:35 UTC -
Local time at epicenter:
vendredi, 12 févr. 2021 22:01 (GMT +5)
Magnitude: 5.8
Profondeur: 100.0 km
Epicenter latitude / longitude: 38.06°N / 73.67°E
(
Haut-Badakhshan
,
Tadjikistan
)
Nearby towns and cities:
29 km OSO de Murghab
(pop: 10,800) -->
Voir les séismes à proximité!
235 km NE de Ishqoshim (Ishkoshim)
(pop: 26,000) -->
Voir les séismes à proximité!
255 km SO de Kachgar (Xinjiang, Chine)
(pop: 274,700) -->
Voir les séismes à proximité!
285 km SSE de Och (Kirghizistan)
(pop: 200,000) -->
Voir les séismes à proximité!
341 km E de Kŭlob (Khatlon)
(pop: 78,800) -->
Voir les séismes à proximité!
374 km SE de Konibodom (Sughd)
(pop: 50,400) -->
Voir les séismes à proximité!
428 km SE de Khodjent (Sughd)
(pop: 144,900) -->
Voir les séismes à proximité!
430 km E de Douchanbé (Dushanbe)
(pop: 679,400) -->
Voir les séismes à proximité!
522 km SE de Tachkent (Toshkent Shahri, Ouzbékistan)
(pop: 1,978,000) -->
Voir les séismes à proximité!
563 km NE de Kaboul (Kabul, Afghanistan)
(pop: 3,043,500) -->
Voir les séismes à proximité!
Weather at epicenter at time of quake:
Clear Sky
-20.4°C
(-5 F), humidity: 61%, wind: 2 m/s (3 kts) from SW
Primary data source:
GFZ
(German Research Centre for Geosciences)
Estimated released energy: 3.2 x 10
13
joules (8.78 gigawatt hours, equivalent to 7558 tons of TNT or 0.5 atomic bombs!)
Plus d'infos
Data for the same earthquake reported by different agencies
Info: The more agencies report about the same quake and post similar data, the more confidence you can have in the data. It takes normally up to a few hours until earthquake parameters are calculated with near-optimum precision.
| | | | |
| --- | --- | --- | --- |
| Magnitude | Profondeur | Lieu | Source |
| unspecified | n/a | Pakistan | VolcanoDiscovery |
| 5.8 | 1 km | Tajikistan-Xinjiang Border Region | GFZ |
| 5.9 | 92 km | TAJIKISTAN | EMSC |
| 5.9 | 99 km | 37 Km W of Murghob, Tajikistan | USGS |
| 6.2 | 106 km | Tajikistan-Xinjiang Border Region | BMKG |
| 6.1 | 1 km | 塔吉克斯坦, Tajikistan | CEIC |
| 5.9 | 94 km | Tajikistan-Xinjiang Border Region | GeoAu |
| 6.5 | 15 km | Hindu Kush And Pamir Area, Tajikistan | KNDC |
| 6.3 | km | Kyrgizstan Region, Tajikistan | KRNET |
User reports for this quake (5482)
Aftershocks
More info
Recorded aftershocks, latest first (5 quakes):
Earlier earthquakes in the same area
Click here to search our database for earlier earthquakes in the same area since 1900!