Volcan Etna: anneaux de vapeur du cratère SE
Most likely, the eruption had changed the morphology of the vent into a way (into a particularly well circularly shaped form?) that allowed it to produce this rare phenomenon. And being Etna, she exaggerates: not only one ring every now and then, but she made dozens if not hundreds during a few hours, often in a row.
Plus sur VolcanoDiscovery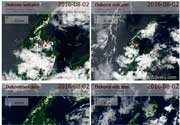 Recent volcano satellite images
: Browse quickly through the latest satellite imagery from volcanoes all over the world in order to spot ash clouds and hot spots.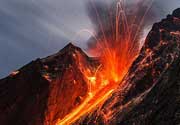 Tours to erupting volcanoes
: From time to time, we organize special tours to see volcanoes in eruption. These are often announced only few days or weeks in advance. Find out more!