Galunggung volcan
Mise à jour: 17 août. 2022 01:32 GMT -
Refresh
Stratovolcano 2168 m / 7,113 ft
Java Ouest (Indonésie), -7.25°S / 108.06°E
Condition actuelle: normal / en sommeil (1 sur 5)
Last update: 9 déc. 2021 (decreasing activity, alert level lowered back to normal (green))

Galunggung volcano about 100 km SE of West Java's capital Bandung had its last major eruption in 1982, when ash plumes reached 20 km.
Montrer carte interactive
Style éruptif tipique:
Explosive
Eruptions du volcan Galunggung:
1984, 1982-83 (VEI 4), 1918, 1894, 1822
Derniers séismes proches:
No recent earthquakes
Introduction
Galunggung volcano is a forested cone cut by a large horseshoe-shaped caldera breached to the SE where most pyroclastic flows from recent eruptions were channeled.
The "Ten Thousand Hills of Tasikmalaya" dotting the plain below the volcano are hill-size deposits (hummocks) left by a large debris-avalanche associated with the collapse forming the caldera ca. 4200 years ago.
Historical eruptions have been restricted to the central vent near the caldera headwall. The eruptions from Galunggung have often caused much damage: The first historical eruption in 1822 produced pyroclastic flows and lahars that killed over 4000 persons. Its last major eruption in 1982-1983 produced devastating pyroclastic flows causing large-scale damage in the populated areas around the volcano.
Galunggung Photos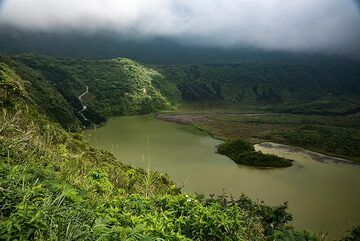 Galunggung volcano's crater lake (Photo: Ivana Dorn)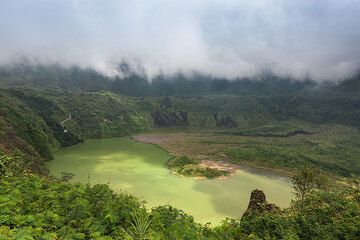 Galunggung volcano and low clouds (Photo: Uwe Ehlers / geoart.eu)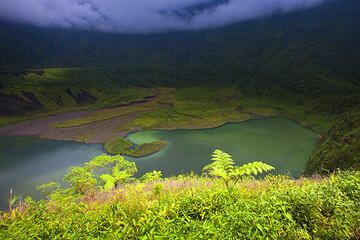 Galunggung volcano's crater, West Java, Indonesia (Photo: Roland Gerth)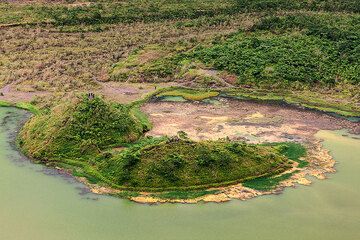 Crater lake of Galunggung volcano (Photo: Uwe Ehlers / geoart.eu)
April 1982 - Jan 1983 eruption
The 1982-1983 eruption was a series of violent explosions with tall ash plumes and pyroclastic flows and mud flows. It killed at least 21 people, caused evacuation of 40,000 people and destroyed ca 94,000 ha of cultivated land. ...
plus
Aircraft ash encounter at Galunggung - near fatal accident with Boing 474
On 24 June 1982, a Boeing 747 flew through Galunggung's undetected ash plume, which caused all four engines to fail. Fortunately, the engines could be restarted after the plane had lost 25,000 ft and came into denser air, and the crew managed a successful emergency landing, saving the lives of 263 people. This and a similar accident over Alaska raised awareness of the need to monitor volcanic ash plumes, which lead to the formation of the Volcanic Ash Advisory Centres (VAAC). ...
plus

See also: Sentinel hub | Landsat 8 | NASA FIRMS