Hayli Gubbi volcan
Mise à jour: 15 août. 2022 13:02 GMT -
Refresh
Shield volcano 521 m / 1,709 ft
Ethiopia, 13.5°N / 40.72°E
Condition actuelle: normal / en sommeil (1 sur 5)
Montrer carte interactive
Style éruptif tipique:
unspecified
Eruptions du volcan Hayli Gubbi:
unknown, no recent eruptions
Derniers séismes proches:
No recent earthquakes
Introduction
Hayli Gubbi is the southernmost volcano of the Erta Ale Range. Recent tectonism has created a graben at the summit of 521-m-high volcano. A symmetrical scoria cone with a 200-m-wide crater displaying fumarolic activity occupies the center of the graben. An older shield volcano is covered on the north by recent fissure-fed lava flows. Lava flows from the axial portion of a fissure system extending to the south have reached the floor of the Giulietti Plain south of the Erta Ale Range. The open fissures extend for more than 10 km and are lined with dozens of small spatter cones and pit craters. The distal portion of lava flows issuing from the fissure system cover 8200-year-old sedimentary deposits on the Giuletti Plain.
---
Smithsonian / GVP volcano information
Hayli Gubbi Photos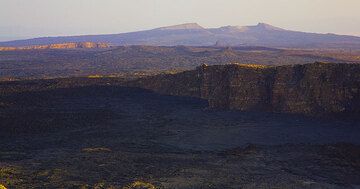 Sunset touches the upper caldera rims of the Erta Ale volcano. Behind is another caldera and Hayli Gubbi shield volcano in the far background with its own summit caldera....

See also: Sentinel hub | Landsat 8 | NASA FIRMS