Iztaccíhuatl volcan
Mise à jour: 15 août. 2022 13:49 GMT -
Refresh
stratovolcan 5230 m / 17,159 ft
Central Mexico, 19.18°N / -98.64°W
Condition actuelle: normal / en sommeil (1 sur 5)
Last update: 25 oct. 2019 (possible small gas eruption on 22 Oct)

Iztaccihuatl volcano as seen from the Sacromonte mountain in Amecameca, Mexico State (image: Wikimedia Commons, AlejandroLinaresGarcia)
Iztaccíhuatl volcano (also spelled Ixtaccíhuatl) is a massive andesitic stratovolcano next to the famous neighbor Popocatépetl volcano. It is the 3rd highest mountain of Mexico.
Iztaccíhuatl has the profile of a sleeping woman when seen from the Valley of Mexico, which gave it its name meaning "Woman in White", referring also to the Ayoloco glacier covering its summit. Geologically, it is the predecessor volcano of Popocatépetl and now in its final stages of infrequent activity, with some activity sometime less than 11,000 years ago.
Montrer carte interactive
Style éruptif tipique:
effusif
Eruptions du volcan Iztaccíhuatl:
unknown, less than 11,000 years ago
Derniers séismes proches:
No recent earthquakes
Introduction
A series of overlapping cones constructed along a NNW-SSE line to the south of the Pleistocene Llano Grande caldera forms the summit ridge of the massive 450 cu km volcano. Andesitic and dacitic Pleistocene and Recent volcanism has taken place from vents at or near the summit of Volcán Iztaccíhuatl. Valley headwalls near the summit vent (El Pecho) are draped with flows and tuff beds post-dating an 11,000 years before present glaciation. The youngest vents are located at the summit and a depression at 5100 m along the summit ridge midway between El Pecho and Los Pies (White 1986). Nixon (1989) considered all summit lavas to be Pleistocene in age, but noted a postglacial dacitic vent on the south flank of Iztaccíhuatl, north of the saddle between it and Popocatépetl.
(Source: GVP / Smithsonian volcano information)
Iztaccíhuatl Photos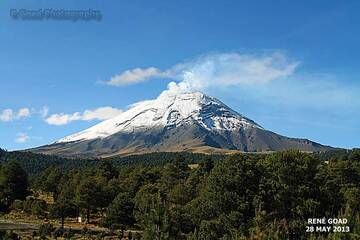 Popocatepetl is one of Mexico's most active volcanoes and also part of an Aztec legend, a warrior who fell in love with a young woman (Iztaccihuatl) who died while he was...
Volcano Iztaccihuatl (5230m), Mexico (Photo: WNomad)

See also: Sentinel hub | Landsat 8 | NASA FIRMS