Jebel al-Tair volcan
Mise à jour: 2 oct.. 2022 17:00 GMT
-
stratovolcan 244 m/ 801 ft
Mer Rouge (Yemen), 15.55°N / 41.83°E
Condition actuelle: normal / en sommeil (1 sur 5)
Last update: 11 déc. 2021 (Smithsonian / USGS Weekly Volcanic Activity Report)

Jebel al-Tair ("bird mountain") volcano is the northernmost active volcano rising above sea level on the rift axis of the south-central part of the Red Sea.
Its western spelling varies from Jebel at Tair to Jebel al Tair, Djebel Teyr, Jabal al Tayr,, Jibbel Tir and other variants.
Jebel al Tair's activity is mainly effusive, but explosive eruptions or explosive phases at the beginning of effusive eruptions occur as well and have produced ash and pumice layers. The first historically recorded eruptions were explosive eruptions (which are easier to detect) in the 18th century. Jebel al Tair's last eruption was in 2007-2008 and killed 8 soldiers and destroyed a military base on the island.
Montrer carte interactive
Style éruptif tipique:
effusif
Eruptions du volcan Jebel al-Tair:
2007-08, 1883, 1863, 1833 ± 1 year, 1750 ± 50 years
Derniers séismes proches
No recent earthquakes
Introduction
The tholeiitic basaltic strato-/ shieldvolcano is a single volcano that rises from a depth of 1200 and forms an elliptical 3 km long island. Numerous young lava flows erupted from its steep-walled half-open summit crater Djebel Duchan and from radial fissures. Young lava flows cover most of the island .Jebel al-Tair is a single volcanic edifice composed of basalt lava.
An older part of the volcano is visible at a circular steep sea cliff draped by young basalt lavas which extend to form a coastal plain.
Cinder cones are located along the NW and southern coasts, and fumarolic activity occurs from two uneroded scoria cones at the summit.
(Source: Smithsonian / GVP volcano information)
Jebel al-Tair Photos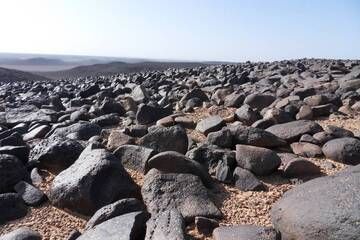 Jebel As-Sawda, field near Sabha, Lybia (Photo: WNomad)





2007 eruption & fatalities
A new eruption began at Jebel al Tair volcano on 30 September 2007, the first documented in more than 120 years, which is why it took many people by surprise. The eruption destroyed a military base on the island and killed up to 8 soldiers.
A survivor told that the eruption "started with shocks like quakes, and then we heard huge blasts with lava and rocks spewing out and dropping on us." He also said he and 6 fellow soldiers decided to flee the island by trying to swim through "boiling water" surrounding the island.
The eruption came not from the summit, but from a fissure that had opened on the NE flank and started to produce violent lava fountains from multiple vents and lava flows that quickly reached the sea. The initial phase also produced ash and pumice that was found floating 10 km from the island.
The exact number of fatalities could could not be established, but ranges between at least 4 to at least 8, a more likely figure. Immediately after the beginning of the eruption, the Yemeni Coast Guard said that 21 of the 29 soldiers on the island had been rescued with eight missing.
The lava flow and weak lava fountains were still weakly active on 3 November when a passing ship saw the fountains on the NW side of the island. Hot spots continued to be visible on satellite images until June 2008, but also showed a sharp decrease starting in late December until February 2008.
---
Source: GVP / Monthly reports




See also: Sentinel hub | Landsat 8 | NASA FIRMS