Kanaga volcan
stratovolcan 1307 m / 4,288 ft
Andreanof Islands, Aleutian Islands, Alaska , 51.92°N / -177.17°W
Condition actuelle: normal / en sommeil (1 sur 5)
Last update: 11 sept. 2012 (Alert lowered to normal)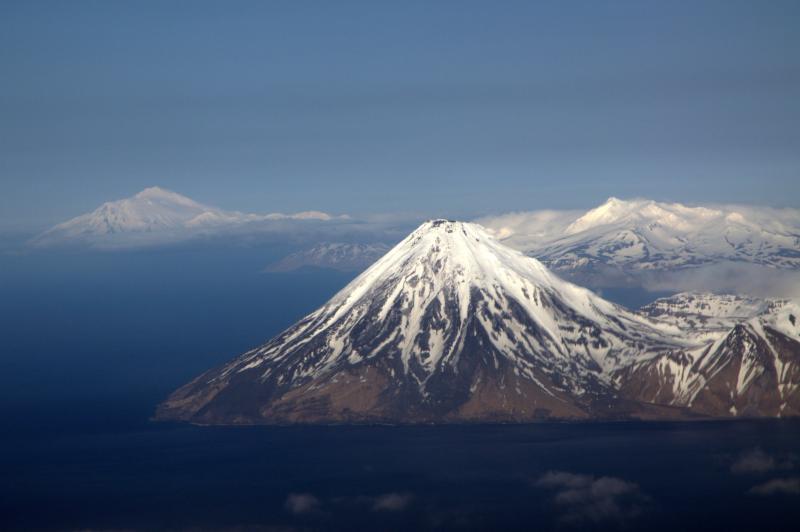 Kanaga Volcano Viewed from the west with Mt Moffet, Adak and Great Sitkin in the background (image taken May 8, 2010 by Cyrus Read, AVO/USGS)
Kanaga volcano is an active symmetrical stratovolcano rising 1300 m on the northern part of Kanaga Island in the western Aleutians, Alaska. It is one of the most southerly volcanoes of the central Aleutian chain.
The volcano has a small 200 m wide and 60 m deep circular summit crater with fumaroles inside the crater and around its rims. Historical eruptions have been recorded since 1763, but not in much detail due to the remoteness of the volcano. A new eruption might have started on 18 February 2012.
Montrer carte interactive
Style éruptif tipique
: explosive
Eruptions du volcan Kanaga
: 2012 (?), 1993-95, 1942, 1933, 1906, 1904, 1829 (?), 1791 (?), 1790 (?), 1783-87 (?), 1768, 1763
No recent earthquakes
| | | |
| --- | --- | --- |
| Heure | Mag. / Profondeur | Distance/Lieu |
Introduction
Symmetrical Kanaga stratovolcano is situated within the Kanaton caldera at the northern tip of Kanaga Island. It is composed of interbedded basaltic and andesitic lava flows, scoria layers, and pyroclastic rocks.
The rim of Kanaton caldera forms a 760-m-high arcuate ridge south and east of Kanaga; a lake occupies part of the SE caldera floor. The volume of subaerial dacitic tuff is smaller than would typically be associated with caldera collapse, and deposits of a massive submarine debris avalanche associated with edifice collapse extend nearly 30 km to the NNW. Several fresh lava flows from historical or late prehistorical time descend the flanks of Kanaga, in some cases to the sea.
Kanaga is also noted petrologically for ultramafic inclusions within an outcrop of alkaline basalt SW of the volcano. Fumarolic activity occurs in a circular, 200-m-wide, 60-m-deep summit crater and produces vapor plumes sometimes seen on clear days from Adak, 50 km to the east.
(Smithsonian / GVP volcano information)



1994-95 eruption

Jusqu'en 2012, la dernière éruption de Kanaga en 1994-1995 lorsqu'on les observe panaches éruptifs étaient relativement diluées, augmentait à une altitude de moins de 3 km (9 840 pieds), cendres de chute sur les flancs du volcan. Plus grandes émissions de cendres atteignant jusqu'à 7,5 km a eu lieu le 21 février 1995. ...

plus




1906 eruption
Kanaga a été vu en éruption 1906, un chasseur signalé. L'éruption a été accompagnée par des séismes et des coulées de lave ont été signalés sur le côté est et ouest du cône du volcan raide de.




1904 eruption
Pas beaucoup est connu au sujet de l'éruption du volcan Kanaga en 1904. Des documents historiques suggèrent une coulée de lave sur le flanc supérieur du sud.

See also: Sentinel hub | Landsat 8 | NASA FIRMS