Karisimbi volcan
Mise à jour: 9 août. 2022 02:28 GMT -
Refresh
Stratovolcano 4507 m / 14,787 ft
DR Congo/Rwanda, -1.5°S / 29.45°E
Condition actuelle: normal / en sommeil (1 sur 5)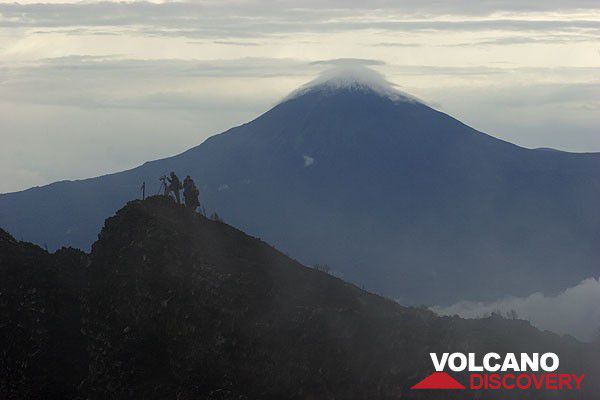 Karisimbi volcano with snow cover seen from the rim of Nyiragongo
Karisimbi is the highest of the Virunga volcanoes in Central Africa in the border region of Rwanda and DR Congo. It is the 11th highest mountain of Africa and currently in a dormant stage. There are no confirmed historical eruptions.
Its name stems from word "amasimbi" in local Kinyarwanda dialect and means snow. The mountain is believed to be home to spirits and there are many legends associated with it.
Montrer carte interactive
Style éruptif tipique:
unspecified
Eruptions du volcan Karisimbi:
8050 BC (?)
Derniers séismes proches:
No recent earthquakes
Introduction
Karisimbi, the highest of the Virunga volcanoes, is a complex volcano with a symmetrical sharp-peaked summit. The 2-km-wide Branca caldera, located SE of the 4507-m-high summit, is filled by viscous lava flows and two explosion craters. The large, 1.2-km-wide Muntango pit crater is located south of the summit of the basanitic-to-trachytic volcano. A broad lava plain, formed from lava flows erupted within the caldera and along a chain of parasitic cones, extends SW. More than 100 parasitic cones erupted along a NNE-SSW zone that extends to the shores of Lake Kivu. The youngest Potassium-Argon date obtained is about 10,000 years before present (de Mulder, 1985). The youngest eruptions from Karisimbi produced a group of dome-shaped parasitic vents east of the caldera, which fed viscous lava flows that traveled as far as 12 km to the east, and lava flows from the SW-flank satellitic lava vents.
---
Smithsonian / GVP volcano information
Karisimbi Photos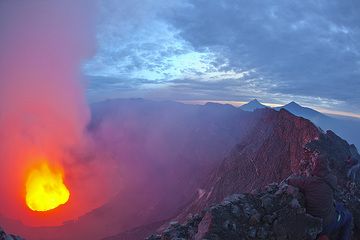 Morning comes fast! A last photo of the lava lake in its giant crater, before fumes become too dense. Jean Michel, at the lower right, merges with the ground. Mikeno and ...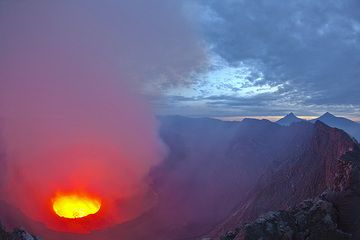 The peaks of Mikeno and Karisimbi volcanoes, part of the Virunga group of volcanoes, silhouette against the morning horizon to the NE. (Photo: Tom Pfeiffer)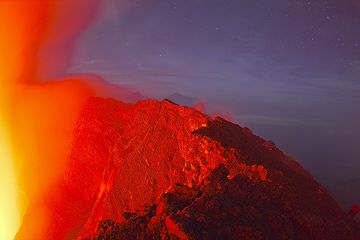 Mikeno and Karisimbi in the background behind the illuminated wall of Nyiragongo's crater. (Photo: Tom Pfeiffer)
View of Karisimbi volcano with its snow-cap that gave the volcano its name - "amasimbi" is snow in local language. (Photo: Tom Pfeiffer)

See also: Sentinel hub | Landsat 8 | NASA FIRMS