Kawah Karaha volcan
fumarole field 1155 m (3,789 ft)
Java Ouest, Indonésie, -7.12°S / 108.08°E
Condition actuelle
:
normal / en sommeil
(1 sur 5) |
Reports
Kawah Karaha livres
Kawah Karaha is a fumarole field at the northern and older end of the regional N-S trending volcanic chain comprising Galunggung volcano near Garut. Kawah Karaha fumarole field covers an area of 250 x 80 m and contains a sulfur deposit.
Introduction:
The last eruption of Kawah Karaha volcano is unknown. A phreatic eruption in May 1861 reported in the Catalog of Active Volcanoes of the World (Neumann van Padang, 1951) is discredited by other authors (e.g. the Global Volcanism Program, Smithsonian Institution).
See also:
Sentinel hub
|
Landsat 8
Plus sur VolcanoDiscovery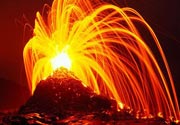 Volcano Tours on Hawai'i
: The Hawaiian Islands are not only home to the most active volcanoes in the world, Kilauea and Mauna Loa on the Big Island, but also boast a unique natural environment. Born by volcanic activity of a very active hot spot in the middle of the Pacific Plate, they are a showcase of natural history.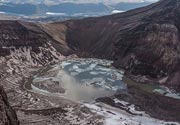 Gorely volcano photos
: Gorely is a young and very active shield volcano in southern Kamchatka. It is one of Kamchatka's easiest volcanoes to climb and offers stunning views into vast craters and the surrounding landscape.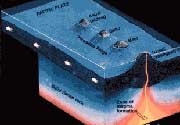 Intraplate volcanism
: A third tectonic setting where volcanism occurs is believed to be the result of mantle plumes and not directly related to plate boundaries. So called hot spot volcanoes fall into this category.