Keluo volcan
pyroclastic cones 670 m / 2,198 ft
Heilongjiang Province, NE China, 49.37°N / 125.92°E
Condition actuelle
:
normal / en sommeil
(1 sur 5) |
Reports
Keluo livres
Style éruptif tipique
: strombolian, effusive
Eruptions du volcan Keluo
: less than 10,000 years ago
| | | | |
| --- | --- | --- | --- |
| Heure | Mag. / Depth | Distance | Location |
The volcanic group covers 350 sq km and contains 23 cones, some of which could be Holocene in age (have formed less than 10,000 years ago), judging by their youthful morphology, including Nanshan (科洛南山) cone at the southern end of the field north of the Keluo River, Keluo Gushan (科洛孤山) cone, Keluo Jianshan (科洛尖山), Keluo Dayishan (科洛大椅山) and Keluo Xiaoyishan (科洛小椅山).
There are unconfirmed reports of historical activity at Keluo.
Introduction:
The Keluo volcanic field, like its better known neighbor to the south, the Wudalianchi volcanic field, contains many high-potassium basaltic cinder cones. Most cones to the NE are of Pleistocene to Tertiary age. Cinder cones of the Keluo volcanic field are located at the intersections of regional NE- and NW-trending lineaments and were erupted through basement volcanic and sedimentary rocks of Jurassic-Cretaceous age, granitic rocks, and pre-Permian metasediments.
Ol-bearing leucitites are found from 3 volcanoes in the Keluo field: Dangzishan, Heishan and Muhenanshan. Muhenanshan volcano is currently the only one known so far at which ol-leucitites and trachybasalts coexist (Zhang et al, 1995).
---
Sources and further reading:
-
Smithsonian / GVP volcano information
- Chuvashova et al:
Latest Pleistocene through Holocene Volcanism in Central Mongolia and Northeast China: Partial Melting in Closed and Open Mantle Sources
(mantleplumes.org)
- Zhang et al (1995) "Potassic Volcanic Rocks in NE China: Geochemical Constraints on Mantle Source and Magma Genesis" Journal of Petrology, v. 36(5), pp. 1275-1303
See also:
Sentinel hub
|
Landsat 8
Plus sur VolcanoDiscovery: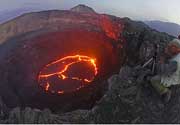 Desert, Salt & Volcanoes
: One of our best volcano expeditions! Stay 3 full days / nights at the active lava lake of Erta Ale, explore the wonders of Dallol and the Danakil desert in northern Ethiopia. 14 days expedition during Nov-March, small groups, guided by geologist.
One of the world's most famous volcanoes looming over the City of Naples