Kikhpinych volcan
Stratovolcanoes 1552 m / 5,092 ft
Kamchatka, Russia, 54.49°N / 160.25°E
Condition actuelle
:
normal / en sommeil
(1 sur 5) |
Reports
Kikhpinych livres
Style éruptif tipique
: unspecified
Eruptions du volcan Kikhpinych
: 1550 (?)
| | | | |
| --- | --- | --- | --- |
| Heure | Mag. / Depth | Distance | Location |
No recent earthquakes
Introduction:
Kikhpinych, the youngest stratovolcano of the eastern volcanic zone of Kamchatka and one of the smallest, contains three summits constructed along a roughly E-W line above the eroded Pleistocene Pik volcano, NE of the Uzon caldera. Growth of the modern volcano began during the middle Holocene about 4800 years ago with construction of the Zapadny cone. After a long quiescence, the younger Savich cone was born about 1400 years ago, following a strong explosive eruption that destroyed part of the Zapadny and Pik cones. Numerous young lava flows mantle the flanks of 1552-m-high Savich cone, which has grown to slightly exceed Zapadny as the high point of Kikhpinych volcano. Savich was last active about 400 years ago, when the Krab lava dome was formed on its eastern flank. Numerous thermal fields are found throughout the complex, including two geysers (now the site of vigorous fumaroles) that were active in the summit crater of Stary Kikhpinych prior to burial by a rockfall avalanche that occurred sometime between September 1981 and July 1982.
---
Smithsonian / GVP volcano information
See also:
Sentinel hub
|
Landsat 8
Plus sur VolcanoDiscovery
Photos from Vanuatu
: A fascinating archipelago with very active volcanoes, tropical islands and very friendly and hospital people who still live their original Melanesian culture. Browse through our vast collection of photos.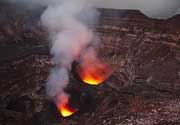 Ambrym volcano photos
: Ambrym (Vanuatu) is one of the most active volcanoes in the world. Its vast caldera has an amazing moonscape and several active vents that contain boiling lava lakes, most famous Marum and Benbow.