Krakatau volcan satellite images:
Images include thermal anomalies from fires, volcanoes etc (red dots).
Remarque: Some images might be broken or incomplete due to internal loading or server timeout issues.
- Plus récents -
Satellite: Suomi NPP (NASA)
Satellite: Aqua (NASA)
Satellite: Terra (NASA)
- Hier -
Satellite: Suomi NPP (NASA)
Satellite: Aqua (NASA)
Satellite: Terra (NASA)
Source
Imagery from:
EOSDIS Worldview (NASA)
If you like to use one of these images, please include a link back to this page!
NASA satellite image of the Sunda Strait, Indonesia
NASA satellite image of the island group of Krakatau.
Close-up of Anak Krakatau volcanic island, with its recent lava flows well visible.
Krakatoa - the world's most infamous volcano
The island group of Krakatoa (or Krakatau) lies in the Sunda Strait between Java and Sumatra.  Krakatoa is infamous for its violent Plinian eruption in 1883, that destroyed the previous volcanic edifice and enlarged its caldera.
Collapse of the former volcanic edifice, perhaps in 416 AD, had formed a 7-km-wide caldera.  Remnants of this ancestral volcano are preserved in Verlaten and Lang Islands; subsequently Rakata, Danan and Perbuwatan volcanoes were formed, coalescing to create the pre-1883 Krakatoa island.  Caldera collapse during the catastrophic 1883 eruption destroyed Danan and Perbuwatan volcanoes, and left only a remnant of Rakata volcano. 
This eruption, the 2nd largest in Indonesia during historical time (the most violent being the eruption of Tambora in 1815), caused more than 36,000 fatalities, most as a result of devastating tsunamis that swept the adjacent coastlines of Sumatra and Java.  Pyroclastic surges traveled 40 km across the Sunda Strait and reached the Sumatra coast.  After a quiescence of less than a half century, the post-collapse cone of Anak Krakatoa ("Child of Krakatoa") was constructed within the 1883 caldera at a point between the former cones of Danan and Perbuwatan.  Anak Krakatau has been the site of frequent eruptions since 1927.
(adapted from GVP)
Le Krakatau, détroit de la Sonde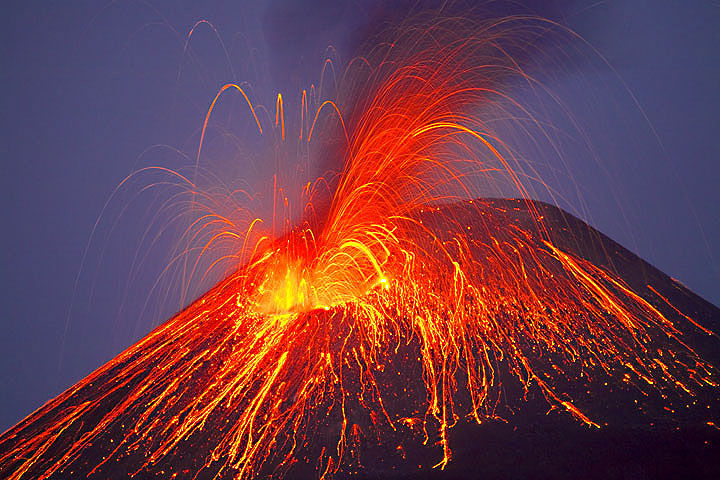 expédition pour étudier et observer l'activité du volcan l'Anak Krakatau
5-8 Jours - Facile
sur demande
Départs sur commande possibles
when erupting
10-14 mai 2022
1-6 juin 2022
Depuis juillet 2011, le Krakatau est de nouveau en éruption.
Nous assistons à
la reprise spectaculaire de l'activité éruptive de l'Anak Krakatau dans le détroit de la Sonde
. Pour cette raison, nous vous offrons la chance de voir et de
vivre en direct ce merveilleux spectacle volcanique! Une expédition spéciale éruption- Krakatau s'organise prochainement
. C'est l'occasion ou jamais de partir avec l'un de nos volcanologues. Contactez-nous pour participer à l'une de nos expéditions, sur demande entre 1 et 10 personnes.
plus d'infos