Krakatau Volcano Videos
Caldera 813 m (2,667 ft.) / Anak Krakatau: 189 m
Sunda Strait, Indonesia, -6.1°S / 105.42°E
Krakatoa volcano eruptions from close (20-21 Nov 2018)
Compilation of short clips of strombolian explosions at the summit crater of Anak Krakatau during 20 and 21 Nov 2018 in the evening. Double speed.
Volcano Expedition to Krakatoa 18-24 Nov 2018: eruption movie
A short movie about the recent Volcano Special tour, showing our arrival on the island and the various eruptions seen from the boat, the opposite beach and from few hundred meters distance on Anak Krakatau itself.
Evening eruption at Anak Krakatau 20 Nov 2018 from close range
Observation of strombolian activity from Anak Kraktau from close range. Lava bombs were sometimes falling only few hundred meters away from us and when activity eventually increased, we were forced to retreat.
Krakatoa volcano erupts red hot lava in spectacular night-time explosion
Krakatoa had a particularly violent eruptive phase during 17-19 Nov 2018. With a small group, we managed to reach the island on 19 Nov and observed intense lava fountaining, explosions and lava flows.
Near continuous weak lava fountaining at Krakatau volcano
Night of 19 Nov 2018, Anak Krakatau showed still intense activity including small pulsating lava fountains and the effusion of a new lava flow descending on the southern slope of the summit cone.
Krakatau volcano: spectacular large explosion 17 Oct 2018
Video was taken during a VolcanoDiscovery expedition to Krakatau from 13-20 Oct 2018. In the afternoon of 17 Oct, a particularly violent explosion occurred as lateral blast that excavated a pit crater beneath the southern lid of the crater, at the same location the September lava flow had overspilled from the crater. By 19 Oct, this new pit had merged with the main crater, enlarging it.
NASA satellite image of the Sunda Strait, Indonesia
NASA satellite image of the island group of Krakatau.
Close-up of Anak Krakatau volcanic island, with its recent lava flows well visible.
Krakatoa - the world's most infamous volcano
The island group of Krakatoa (or Krakatau) lies in the Sunda Strait between Java and Sumatra.  Krakatoa is infamous for its violent Plinian eruption in 1883, that destroyed the previous volcanic edifice and enlarged its caldera.
Collapse of the former volcanic edifice, perhaps in 416 AD, had formed a 7-km-wide caldera.  Remnants of this ancestral volcano are preserved in Verlaten and Lang Islands; subsequently Rakata, Danan and Perbuwatan volcanoes were formed, coalescing to create the pre-1883 Krakatoa island.  Caldera collapse during the catastrophic 1883 eruption destroyed Danan and Perbuwatan volcanoes, and left only a remnant of Rakata volcano. 
This eruption, the 2nd largest in Indonesia during historical time (the most violent being the eruption of Tambora in 1815), caused more than 36,000 fatalities, most as a result of devastating tsunamis that swept the adjacent coastlines of Sumatra and Java.  Pyroclastic surges traveled 40 km across the Sunda Strait and reached the Sumatra coast.  After a quiescence of less than a half century, the post-collapse cone of Anak Krakatoa ("Child of Krakatoa") was constructed within the 1883 caldera at a point between the former cones of Danan and Perbuwatan.  Anak Krakatau has been the site of frequent eruptions since 1927.
(adapted from GVP)
Le Krakatau, détroit de la Sonde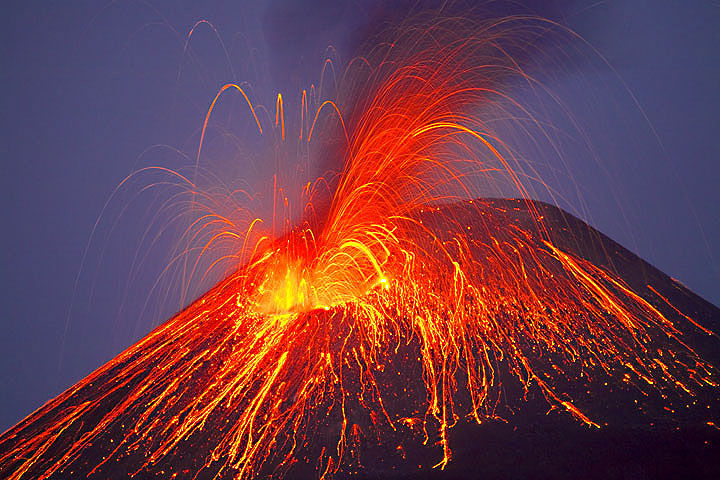 expédition pour étudier et observer l'activité du volcan l'Anak Krakatau
5-8 Jours - Facile
sur demande
Départs sur commande possibles
when erupting
10-14 mai 2022
1-6 juin 2022
Depuis juillet 2011, le Krakatau est de nouveau en éruption.
Nous assistons à
la reprise spectaculaire de l'activité éruptive de l'Anak Krakatau dans le détroit de la Sonde
. Pour cette raison, nous vous offrons la chance de voir et de
vivre en direct ce merveilleux spectacle volcanique! Une expédition spéciale éruption- Krakatau s'organise prochainement
. C'est l'occasion ou jamais de partir avec l'un de nos volcanologues. Contactez-nous pour participer à l'une de nos expéditions, sur demande entre 1 et 10 personnes.
plus d'infos