Laguna Blanca volcan
champ volcanique 1700 m / 5,577 ft
Argentine/Chili (centre), South America, -39.02°S / -70.37°W
Condition actuelle: normal / en sommeil (1 sur 5)
Laguna Bianca is a group of cinder cones and lava flows SW of the town of Zapala. A perfectly shaped and youthful-looking cinder cone on the northern shore of Laguna Blanca is the most prominent feature.
Laguna Blanca National Park is famous for its aquatic bird fauna, including black-necked swans and flamingos.
Style éruptif tipique
: explosive
Eruptions du volcan Laguna Blanca
: unknown
| | | | |
| --- | --- | --- | --- |
| Heure | Mag. / Profondeur | Distance | Location |
Introduction
The volcanic field lies at the southern end of the Loncopue graben. The basaltic to trachyandesitic cinder cones and small shield volcanoes are considered to be less than 10,000 years old, although no radiometric ages are available.
See also:
Sentinel hub
|
Landsat 8
Plus sur VolcanoDiscovery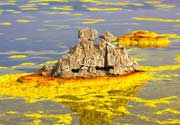 Dallol hot springs
: One of the most bizarre landscapes on earth: Dallol is a vast and very active hydrothermal field creating a colorful array of hot springs, small geysers, salt towers, colorful lakes and ponds in the middle of the deepest part of the Danakil desert and the Karum salt lake.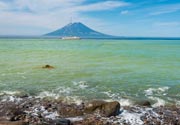 Kuril Islands expedition
: The Kuril islands form one of the most active volcanic chains in the world, but are very difficult to access. From time to time, we organize expeditions to some of these remote and still unspoiled islands. Adventure guaranteed!
A violent vulcanian-type explosion from Anak Krakatau in pictures step by step.