Makian volcan
Mise à jour: 3 déc.. 2022 08:07 GMT
-
Stratovolcano 1357 m / 4,452 ft
Halmahera (Indonésie), 0.32°N / 127.4°E
Condition actuelle: normal / en sommeil (1 sur 5)
Last update: 12 déc. 2021 (Smithsonian / USGS Weekly Volcanic Activity Report)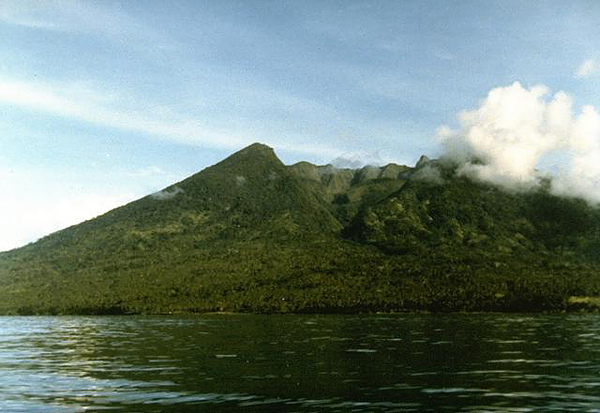 Kiebesi volcano (Makian Island) seen from the NW with the prominent Ngopagita gully (image: Ruska Hadian, 1985, Volcanological Survey of Indonesia)
Makian volcano is one of Inondesia's most destructive volcanoes. It has had infrequent, but violent eruptions that have devastated villages on the island. Its eruption have been recorded since about 1550; the major eruptions in 1646, 1760-61, 1861-62, 1890, and 1988 caused extensive damage and many fatalities.
Montrer carte interactive
Style éruptif tipique:
Explosive eruptions. Infrequent but violent explosions with large amounts of ash and pyroclastic flows generated.
Eruptions du volcan Makian:
1550, 1646, 1660(?), 1760-61, 1854(?), 1860(?), 1861-62, 1863, 1864, 1890, 1988
Derniers séismes proches
Heure
Mag. / Profondeur
Distance/Lieu
mardi, 22 novembre 2022 GMT (1 séisme)
22 nov. 2022 22:35 (GMT +9)

(22 nov.. 2022 13:35 GMT)




3.1


30 km
23 km (14 mi)
Molucca Sea, 69 km au sud de Ternate, North Maluku, Indonésie
Introduction
Makian volcano forms a 10-km-wide island near the southern end of a chain of volcanic islands off the west coast of Halmahera. The large 1.5-km-wide summit crater, containing a small lake on the NE side, gives the 1357-m-high peak a flat-topped profile. Two prominent valleys extend to the coast from the summit crater on the north and east sides. Four parasitic cones are found on the western flanks.
---
Source: GVP, Smithsonian Institution



1988 eruption
A white steam plume appeared on Makian volcano on 17 July 1988. At night, glow from the crater was visible indicating a new eruption. 15,000 people evacuated to to Moti Island 10 km to the north. On 29 July an explosion produced a large ash plume reaching 8 km height and drifting 100 km SW. On 30 July, pyroclastic flows (nuées ardentes) reached the sea. Eruptions continued until August 1988, after when the eruption started to die out.




1976 eruption warning & evacuations
In June 1976, local authorities believed an eruption of Makian could be impending and ordered the evacuation of 3,250 families. It turned out later that the seismic activity prompting this measure had been tectonic and not related to the volcano. No eruption followed.


See also: Sentinel hub | Landsat 8 | NASA FIRMS