Mount Shasta volcan
Mise à jour: 31 mars. 2023 00:50 GMT
-
stratovolcan 4,322 m / 14,179 ft
Californie (Canada and USA (mainland)), 41.41°N / -122.19°W
Condition actuelle: normal / en sommeil (1 sur 5)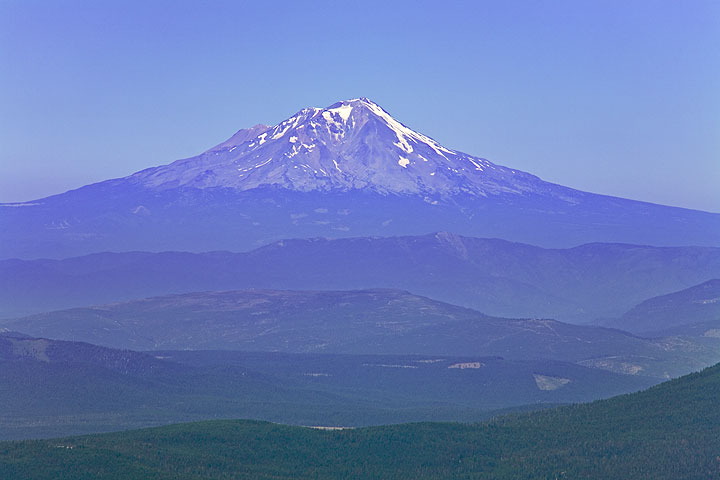 Mount Shasta volcano seen from Lassen Peak
Mt Shasta in Siskiyou County, northen Californian, is the second largest volcano of the Cascade Range. Mount Shasta rises majestically nearly 10,000 ft (3000 m) above the surrounding terrain as it is not connected to any nearby mountain. It has an estimated volume of 350 km3 which makes it the most voluminous stratovolcano in the Cascade Volcanic Arc.
The impressive and beautiful mountain has attracted the attention of poets, authors, ufo-watchers, and is considered a spiritual power center by many.

Geologically, Shasta is remarkable for a giant landslide that removed the entire northern side of the volcano between about 300,000 to 360,000 years ago. With an estimated volume of 6.5 cubic km, it is one of the largest avalanches known on earth. The slide flowed northwestward into Shasta Valley where the Shasta River now cuts through the 28 miles (45 km) long debris flow deposit.
The last confirmed eruption of Mt Shasta happened in 1786 and was observed by the exporer La Pérouse from his ship.
Montrer carte interactive
Style éruptif tipique:
Explosive
Eruptions du volcan Mount Shasta:
1786, 1250(?), 1200(?), 850(?), 150(?), 50 AD (?), 150 BC (?), 550 BC ± 500, 650 BC ± 1000, 850 BC (?), 1150 BC (?), 2050 BC (?), 2550 BC (?), 3050 BC (?), 4050 BC (?), 6650 BC (?), 7250 BC (?), 7350 BC (?), 7420 BC ± 300, 7650 BC ± 100, 7750 BC (?), 8050 BC (?)
Derniers séismes proches
Heure
Mag. / Profondeur
Distance/Lieu
samedi, 25 mars 2023 GMT (1 séisme)
25 mars 2023 00:18 (GMT -7)

(25 mars. 2023 07:18 GMT)




1.5


9.3 km
17 km (10.6 mi)
1km NNE of McCloud, CA
Introduction
Mt Shasta volcano has a complex summit that consists of four overlapping volcanic cones, including the main summit and the prominent satellite cone of 12,330-foot (3,760 m) Shastina with its visible conical form. Shastina has a fully intact summit crater indicating that Shastina developed after the last ice age.
There are 7 named glaciers on Mount Shasta. The 4 largest (Whitney, Bolam, Hotlum, and Wintun) radiate down from high on the main summit cone to below 10,000 feet (3,000 m) primarily on the north and east sides. Whitney Glacier is the longest and the Hotlum is the most voluminous glacier in the state of California. 3 of the smaller named glaciers occupy depressions near and above 11,000 feet (3,400 m) on the south and southeast sides, including the Watkins, Konwakiton, and Mud Creek Glaciers.
The oldest remaining parts of Mount Shasta's are exposed at Sargents Ridge on the south side of the mountain. Andesitic lavas from the Sargents Ridge vent cover the Everitt Hill shield at Mount Shasta's southern foot.
The second oldest cone to form is exposed south of Mount Shasta's current summit and is called Misery Hill. It was formed 15,000 to 20,000 years ago from andesite flows and was later intruded by a hornblende dacite dome.
Since the end of the last ice age, Shastina cone was built by mostly pyroxene andesite lava flows. Some 9,500 years ago, these flows reached about 6.8 miles (10.9 km) south and 3 miles (4.8 km) north of the area now occupied by nearby Black Butte. Pyroclastic flows from Shastina and the then forming Black Butte dacite lava dome complex to the west covered 110 km2, including large parts of what is now Mount Shasta, California and Weed, California.
The last cone of Mt Shasta to form, and the highest, is the Hotlum Cone, which formed about 8,000 years ago. It is named after the Hotlum glacier on its northern face; its longest lava flow, the 500 feet (150 m) thick Military Pass flow, extends 5.5 miles (8.9 km) down its northwest face. Since the creation of the Hotlum Cone, a dacite dome intruded the cone and now forms the summit. The rock at the 600 feet (180 m) wide summit crater has been extensively altered by sulfurous hot springs and fumaroles there.
In the last 8,000 years, the Hotlum Cone has erupted at least eight or nine times. About 200 years ago the last significant Mount Shasta eruption came from this cone and created a pyroclastic flow, a hot lahar (mudflow), and three cold lahars, which streamed 7.5 miles (12.1 km) down Mount Shasta's east flank via Ash Creek. A separate hot lahar went 12 miles (19 km) down Mud Creek. This eruption was observed by the explorer La Pérouse, from his ship off the California coast, in 1786.
---
Source: GVP and Wikipedia


See also: Sentinel hub | Landsat 8 | NASA FIRMS