Nakano-shima volcan
stratovolcans 979 m / 3,212 ft
Îles Ryūkyū (Japan), 29.86°N / 129.86°E
Condition actuelle: normal / en sommeil (1 sur 5)
Nakano-shima volcano is a stratovolcano forming the 9 x 5 km island of the same name, which belongs to the Ryukyu Island chain in southern Japan.
The island is surrounded by coral reefs, but unlike older extinct ocean islands that sink and form reefs Nakano-shima's volcano is active. There are no known magmatic eruptions in historic times, but a small mud eruption occurred in 1914, and increased "smoking" was seen in 1949.
Montrer carte interactive
Style éruptif tipique:
explosive
Eruptions du volcan Nakano-shima:
1949 (uncertain), 1914 (phreatic explosions)
Derniers séismes proches:
No recent earthquakes
Introduction
An older, eroded volcano forms the southern half of the island and a flat plateau separates it from the present-day active volcano which forms the northern half and has an andesitic cone called On-take.
On-take contains a summit crater that is filled with water during the rainy season. Sulfur deposits were mined at a SE-flank solfatara until 1944.
Nakano-shima Photos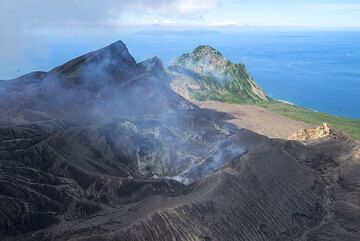 View over the crater of Mt Ontake volcano on Suwanose-jima; Nakano-jima island in the background to the NE. (Photo: Tom Pfeiffer)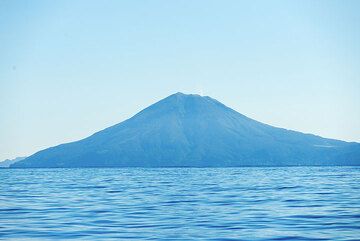 View of Mt Ontake stratovolcano of Nakano-jima volcano, Suwanose-jima's neighbor to the northeast. A gas plume can be seen rising from the summit crater, suggesting the v...

See also: Sentinel hub | Landsat 8 | NASA FIRMS