Nishino-shima volcan
Mise à jour: 21 mars. 2023 04:11 GMT
-
caldera, submarine volcano approx 70 m / 215 ft (currently growing)
Volcano Islands, Japan, 27.27°N / 140.88°E
Condition actuelle: en vigilance - niveau agité (2 sur 5)
Last update: 1 févr. 2023 (Smithsonian / USGS Weekly Volcanic Activity Report)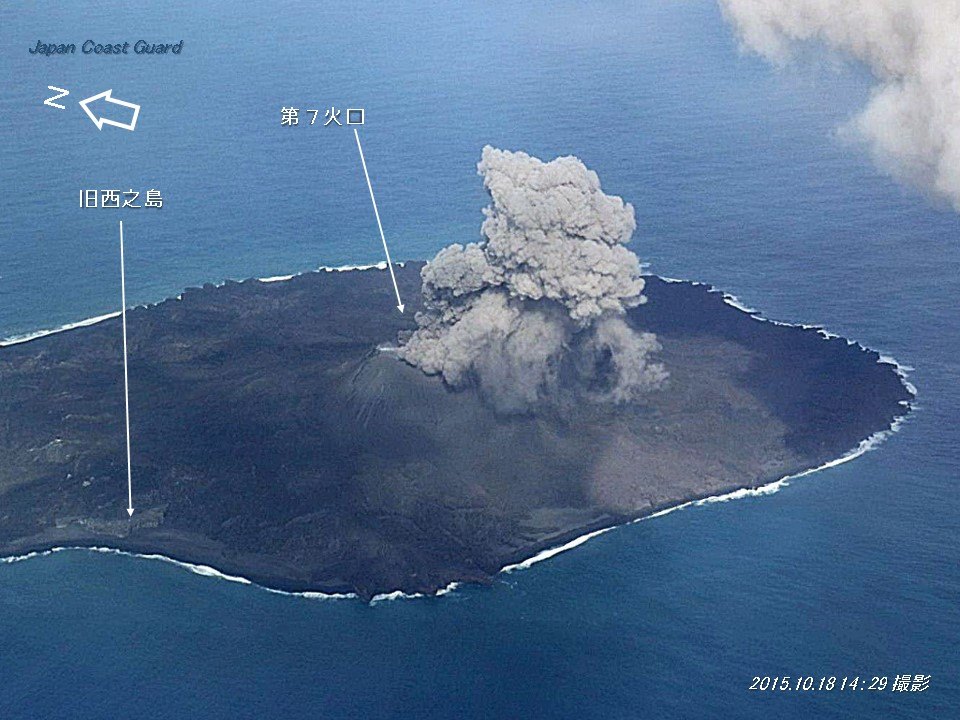 Nishi-no-shima on 18 Oct 2015 (Japanese Coast Guard)
Nishinoshima volcano (西之島, Nishi-no-shima meaning literally: Western Island, also: Rosario Island) is the tiny submerged part of a caldera in the northern Volcano Islands of Japan. The small 700 m wide island was significantly enlarged during the last eruption in 1974, which joined several new islands that formed then.
Water discoloration due to possible minor eruptions and / or shallow submarine hydrothermal activity in the area is a frequent sight.
The mostly submerged volcano is a massive seamount with prominent flank cones on the south, west and NE flanks. The southern cone rises to a depth of 214 m below the sea surface, 9 km SSE of Nishinoshima.
Montrer carte interactive
Style éruptif tipique:
explosive
Eruptions du volcan Nishino-shima:
2019-ongoing, 2017, 2013-15, 1985(?), 1982(?), 1980(?), 1978(?), 1975(?), 1973-74
Derniers séismes proches
No recent earthquakes




See also: Sentinel hub | Landsat 8 | NASA FIRMS