Rendova volcan
Stratovolcano 1050 m / 3445 ft
Solomon Islands, -8.47°S / 157.33°E
Condition actuelle: (probablement) éteint (0 sur 5)
Style éruptif tipique
: unspecified
Eruptions du volcan Rendova
: None during the past 10,000 years
Less than 2.58 million years ago (Pleistocene)
Latest nearby earthquakes
| | | | |
| --- | --- | --- | --- |
| Heure | Mag. / Profondeur | Distance | Location |
Introduction
Rendova Island consists of a Pliocene to Pleistocene basaltic volcano on the north and uplifted submarine lavas to the south.
---
Source: Smithsonian / GVP volcano information
See also:
Sentinel hub
|
Landsat 8
Plus sur VolcanoDiscovery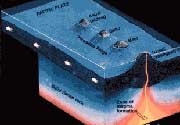 Intraplate volcanism
: A third tectonic setting where volcanism occurs is believed to be the result of mantle plumes and not directly related to plate boundaries. So called hot spot volcanoes fall into this category.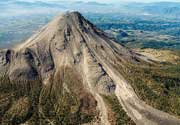 Colima volcano photos
: This beautiful stratovolcano in western Mexico is one of the most active volcanoes on the American continents. It is known for its often spectacular explosions and sometimes glowing avalanches.
Kelut volcano's lava dome in 2007
: One of the most impressive lava dome eruptions in recent years. A new dome formed in the crater lake of Kelut volcano (East Java) in late 2007. Enjoy some unique pictures.