Reventador volcano, Ecuador: news & activity updates
Reventador volcano (Ecuador) activity update: new lava flow on upper NW flank
samedi nov. 22, 2014 10:35 | AUTEUR : T
Infrared image of the lava flow on Reventador volcano on 10 Nov (IGEPN)
A new lava flow is active on the upper NW flank of the volcano, originating from the base of its lava dome. Likely, the flow started in mid to late October; on 19 Nov, it had a length of less than 1 km.
Actualités précédentes
Plus sur VolcanoDiscovery: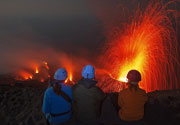 From Stromboli to Etna tour
: A small group tour with a volcanologist to discover the active volcanoes in Sicily: spend 8 fantastic days in some of the most beautiful and interesting volcanic areas in the world. Watch Etna and Stromboli erupt... Last but not least, very nice accommodation and delicious food wait for you!
Latest VAAC alerts
: The Volcanic Ash Advisory Centers provide near-real time global monitoring of volcanic ash plumes for aviation. Read the latest (or browse past) advisories.
Pearl of the Aegean
: Santorini is one of the most beautiful islands in the world. Discover its fascinating natural and cultural history on a relaxed walking study tour with us.