Roundtop volcan
Stratovolcano 1871 m / 6,138 ft
United States, Aleutian Islands, 54.8°N / -163.59°W
Condition actuelle: normal / en sommeil (1 sur 5)
Style éruptif tipique
: unspecified
Eruptions du volcan Roundtop
: 7600 BC ± 500 years
| | | | |
| --- | --- | --- | --- |
| Heure | Mag. / Profondeur | Distance | Location |
Introduction
The flat-topped, glacier-covered Roundtop volcano is the easternmost and lowest of an E-W-trending line of volcanoes on eastern Unimak Island. Roundtop lies 13 km SW of the village of False Pass. The snow and ice-covered edifice fills much of a 3-km-wide caldera that formed during the early Holocene. The caldera-forming eruption produced pyroclastic flows and a rhyolitic tephra layer that is widespread throughout the southwestern end of the Alaska Peninsula. A group of lava domes was constructed south of Roundtop volcano. No historical eruptions are known from the 1871-m-high stratovolcano. In the 1930s warm springs were found on its slopes.
---
Smithsonian / GVP volcano information
Roundtop Photos
See also:
Sentinel hub
|
Landsat 8
Plus sur VolcanoDiscovery
If you find the website useful and would like to support us and help keep it alive and improve it, please consider
making a small donation
.
Thank you!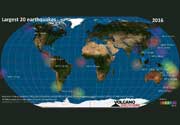 Top 20 quakes in 2016
: Several magnitude 7 quakes occurred in 2016 (but none above M8): Papua New Guinea, NZ, Ecuador, Solomon Islands, Sumatra, Chile, Alaska and others - nearly all major earthquakes were located near active subduction zones.
See the top 20 list of largest quakes in 2016 with this map.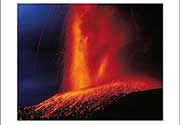 Vulkane Italiens - order online
: 88 pages, brilliant color photos, German language - this beautifully illustrated guidebook is a perfect introduction and companion for all interested in Italy's rich and varied volcanic areas.