Santa Clara volcan
Mise à jour: 18 août. 2022 11:45 GMT -
Refresh
champ volcanique 1465 m / 4,806 ft
Utah (Canada and USA (mainland)), 37.26°N / -113.63°W
Condition actuelle: normal / en sommeil (1 sur 5)
The Santa Clara volcanic field is volcanic area north of St. George in SW Utah, which has been active since abaout 4 million years ago. It contains numerous cinder cones and lava flows.
The Santa Clara lava flow was erupted from 2 young cider cones above Snow Canyon about 10-20,000 years ago and is one of the youngest lava flows in the Colorado Plateau/Basin and Range region. The almost unvegetated lava flow extends 16 km to the south down Snow Canyon, excavated through rocks of the colorful Navajo Sandstone.
Montrer carte interactive
Style éruptif tipique:
effusif
Eruptions du volcan Santa Clara:
10,000-20,000 years ago
Derniers séismes proches:
No recent earthquakes
Santa Clara Photos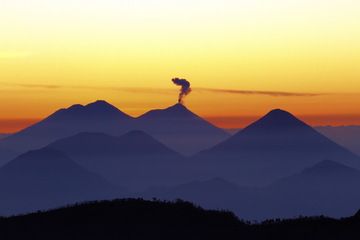 Levé du soleil vue du sommet du volcan Santa Maria avec un paysage panoramique représentant 7 Strato-Volcans du Guatemala(de gauche à droite & de l'arrière plan vers l'av...

See also: Sentinel hub | Landsat 8 | NASA FIRMS