Moderate mag. 4.3 earthquake - 105 km west of Zahedan, Sistan and Baluchestan, Iran, on Tuesday, 26 Jan 2021 12:29 pm (GMT +3:30) -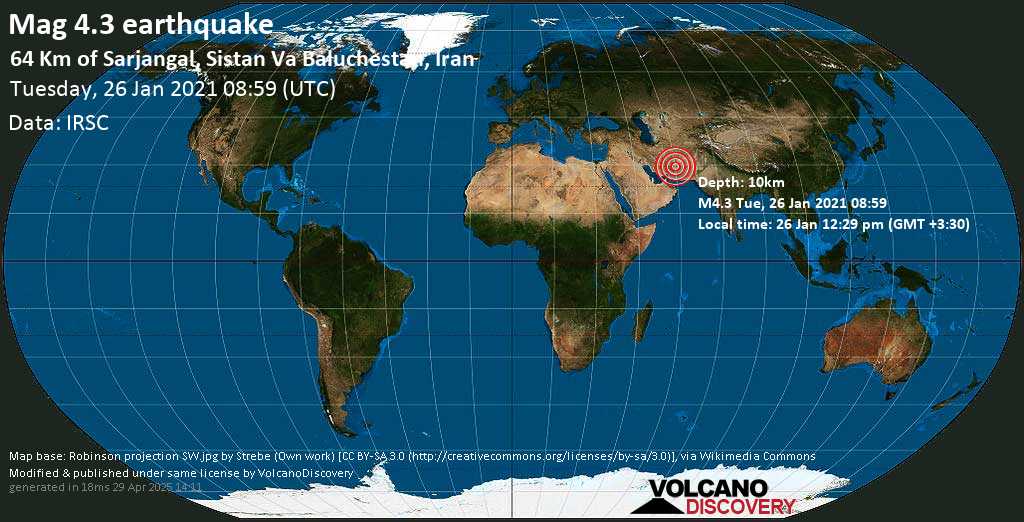 Séisme modéré magnitude 4.3 at 10 km depth
26 Jan 09:15 UTC: Premier à signaler: IRSC après 16 minutes.
Update Tue, 26 Jan 2021, 09:21
Light earthquake of magnitude 4.3 just reported 105 km southwest of Zahedan, Iran
4.3 quake 26 Jan 12:29 pm (GMT +3:30)
A magnitude 4.3 earthquake near Zahedan, Sistan and Baluchestan, Iran, was reported only 22 minutes ago by the Iranian Seismological Center (IRSC), considered the main national agency that monitors seismic activity in Iran. The earthquake occurred at a shallow depth of 10 km beneath the epicenter in the morning on Tuesday 26 January 2021 at 11:59 am local time. The exact magnitude, epicenter, and depth of the quake might be revised within the next few hours or minutes as seismologists review data and refine their calculations, or as other agencies issue their report.
Towns or cities near the epicenter where the quake might have been felt as very weak shaking include Noşratābād (pop. 4,200) located 74 km from the epicenter, and Zahedan (pop. 552,000) 105 km away.
VolcanoDiscovery will automatically update magnitude and depth if these change and follow up if other significant news about the quake become available. If you're in the area, please send us your experience through our reporting mechanism, either
online
or via
our mobile app
. This will help us provide more first-hand updates to anyone around the globe who wants to know more about this quake.
Earthquake data:
Date & time: 26 Jan 2021 08:59:28 UTC -
Local time at epicenter:
mardi, 26 janv. 2021 12:29 (GMT +3:30)
Magnitude: 4.3
Profondeur: 10.0 km
Epicenter latitude / longitude: 29.25°N / 59.82°E
(
Sistan and Baluchestan
,
Iran
)
Volcan le plus près:
Bazman
(132 km / 82 mi)
Nearby towns and cities:
74 km SSO de Noşratābād
(pop: 4,180) -->
Voir les séismes à proximité!
105 km OSO de Zahedan
(pop: 552,000) -->
Voir les séismes à proximité!
143 km E de Bam (Kerman)
(pop: 99,300) -->
Voir les séismes à proximité!
178 km NO de Khāsh
(pop: 69,600) -->
Voir les séismes à proximité!
243 km NNO de Iranshahr
(pop: 131,200) -->
Voir les séismes à proximité!
255 km SO de Zabol
(pop: 122,000) -->
Voir les séismes à proximité!
289 km ESE de Kerman
(pop: 577,500) -->
Voir les séismes à proximité!
346 km NNO de Qasr-e-Qand
(pop: 37,700) -->
Voir les séismes à proximité!
357 km NE de Mīnāb (Hormozgan)
(pop: 70,800) -->
Voir les séismes à proximité!
391 km ESE de Rafsanjān (Kerman)
(pop: 147,700) -->
Voir les séismes à proximité!
Weather at epicenter at time of quake:
Clear Sky
16.7°C
(62 F), humidity: 20%, wind: 2 m/s (5 kts) from NW
Primary data source:
IRSC
Estimated released energy: 1.8 x 10
11
joules (49.4 megawatt hours, equivalent to 42.5 tons of TNT)
Plus d'infos
Data for the same earthquake reported by different agencies
Info: The more agencies report about the same quake and post similar data, the more confidence you can have in the data. It takes normally up to a few hours until earthquake parameters are calculated with near-optimum precision.
| | | | |
| --- | --- | --- | --- |
| Magnitude | Profondeur | Lieu | Source |
| 4.3 | 10 km | 64 Km of Sarjangal, Sistan Va Baluchestan, Iran | IRSC |
| 4.3 | 10 km | SOUTHEASTERN IRAN | EMSC |
User reports for this quake
There are no user reports for this quake yet.
If you felt it
be the first to report it
!
Try our free app!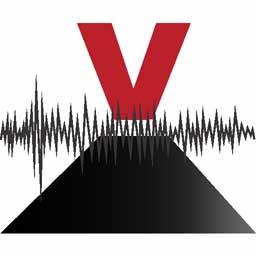 Earlier earthquakes in the same area since 1900
Hint: Click on Date/Time to show latest first

Date / time UTC

|

Mag

|

Profondeur

|

Age

|

Distance

| Détail

28 Jul 1981 17:22

|

7.1

|

33km / 21mi

|

il y a 40 ans

|

213km / 133mi

| 75 km SE of Kerman, Iran

20 Dec 2010 18:41

|

6.7

|

12km / 7.5mi

|

il y a 10 ans

|

112km / 70mi

| 111 km SE of Bam, Kerman, Iran

11 Jun 1981 07:24

|

6.7

|

33km / 21mi

|

il y a 40 ans

|

217km / 135mi

| 74 km SE of Kerman, Iran

26 Dec 2003 01:56

|

6.6

|

10km / 6.2mi

|

il y a 17 ans

|

149km / 93mi

| 13 km S of Bam, Kerman, Iran

14 Mar 1998 19:40

|

6.6

|

9km / 5.6mi

|

il y a 23 ans

|

236km / 147mi

| 53 km E of Kerman, Iran

07 Nov 1969 18:34

|

6.6

|

75km / 47mi

|

il y a 51 ans

|

164km / 102mi

| 91 km NW of Iranshahr, Sistan and Baluchestan, Iran

24 Feb 1994 00:11

|

6.3

|

9.6km / 6mi

|

il y a 27 ans

|

182km / 113mi

| 1 km W of Zabol, Sistan and Baluchestan, Iran

27 Jan 2011 08:38

|

6.2

|

10km / 6.2mi

|

il y a 10 ans

|

141km / 88mi

| 120 km SE of Bam, Kerman, Iran

26 Feb 1994 02:31

|

6.1

|

9.4km / 5.8mi

|

il y a 27 ans

|

196km / 122mi

| 91 km W of Zabol, Sistan and Baluchestan, Iran

23 Feb 1994 08:02

|

6.1

|

6km / 3.7mi

|

il y a 27 ans

|

193km / 120mi

| 88 km W of Zabol, Sistan and Baluchestan, Iran

Show all
Map of earlier quakes