Séisme faible mag. 4.9 - Enga Province, 63 km au nord-ouest de Tari, Papouasie-Nouvelle-Guinée, lundi, 15 févr. 2021 17:02 (GMT +10)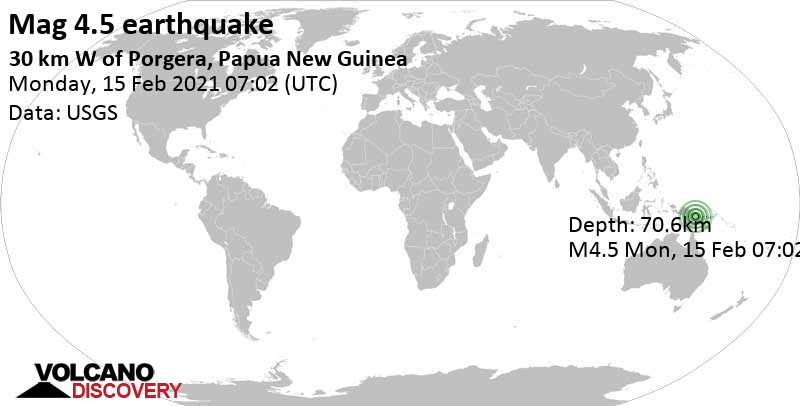 Séisme faible magnitude 4.9 à 96 km de profondeur
15 Feb 07:20 UTC: Premier à signaler: BMKG après 18 minutes.
15 Feb 18:00: Magnitude recalculée de 5.0 à 4.9. Profondeur recalculée de 93.0 à 96.0 km (de 58 à 60 mi). Emplacement de l'épicentre corrigé de 3.5 km (2.2 mi) au NNW.
Update Mon, 15 Feb 2021, 07:24
Significant magnitude 5.0 quake hits 60 km northwest of Tari, Papua New Guinea in the afternoon
5.0 quake 15 Feb 5:02 pm (GMT +10)
Just 22 minutes ago, a 5.0-magnitude earthquake struck near Tari, Papua New Guinea. The tremor was recorded in the afternoon on Monday 15 February 2021 at 5:02 pm local time, at an intermediate depth of 93 km below the surface.
The event was filed by Indonesia's Meteorology, Climatology, and Geophysical Agency, the first seismological agency to report it.
Based on the preliminary seismic data, the quake should not have caused any significant damage, but was probably felt by many people as light vibration in the area of the epicenter.
Weak shaking might have been felt in Tari (pop. 8,200) located 60 km from the epicenter.
Other towns or cities near the epicenter where the quake might have been felt as very weak shaking include Wabag (pop. 4,000) located 116 km from the epicenter, and Wabag (pop. 4,000) 116 km away.
VolcanoDiscovery will automatically update magnitude and depth if these change and follow up if other significant news about the quake become available. If you're in the area, please send us your experience through our reporting mechanism, either
online
or via
our mobile app
. This will help us provide more first-hand updates to anyone around the globe who wants to know more about this quake.
Détails du séisme
Date et l'heure
15 Feb 2021 07:02:07 UTC
Heure locale

à l'épicentre

lundi, 15 févr. 2021 17:02 (GMT +10)
Statut
Confirmé
Magnitude
4.9
Profondeur
96.0 km
Épicentre

latitude / longitude

5.4°S / 142.67°E (Enga Province, Papouasie-Nouvelle-Guinée)
Antipode sismique
5.4°N / 37.33°W
Intensité

d'agitation

Secousses faibles près de l'épicentre
Senti
0 rapports
Source de données principale
BMKG (Meteorological, Climatological, and Geophysical Agency of Indonesia)
Volcan le plus près
Doma Peaks (74 km / 46 mi)
Lieux à proximité
63 km NNO de Tari (pop: 8,190) |

Carte

| Séismes à proximité
117 km O de Wabag (Enga) (pop: 3,960) |

Carte

| Séismes à proximité
137 km NO de Mendi (Southern Highlands) (pop: 26,300) |

Carte

| Séismes à proximité
172 km ENE de Kiunga (North Fly, Western Province) (pop: 11,500) |

Carte

| Séismes à proximité
180 km ONO de Hagen (Dei District, Western Highlands) (pop: 33,600) |

Carte

| Séismes à proximité
232 km SSO de Wewak (East Sepik) (pop: 18,200) |

Carte

| Séismes à proximité
310 km ONO de Goroka (Eastern Highlands) (pop: 18,500) |

Carte

| Séismes à proximité
346 km O de Madang (pop: 27,400) |

Carte

| Séismes à proximité
385 km SE de Noordwijk (Papua, Indonésie) (pop: 134,900) |

Carte

| Séismes à proximité
671 km NO de Port Moresby (National Capital) (pop: 283,700) |

Carte

| Séismes à proximité
Météo à l'épicentre

au moment du séisme

Overcast Clouds 20.7°C (69 F), humidity: 81%, wind: 1 m/s (2 kts) from SW
Énergie sismique

estimée libérée

1.4 x 1012 joules (392 MWh, équivalent à 338 tonnes de TNT) | about seismic energy
Données pour le même séisme indiquées par différentes agences
Info : Plus les agences signalent le même séisme et publient des données similaires, plus vous pouvez avoir confiance dans les données. Il faut normalement jusqu'à quelques heures pour que les paramètres sismiques soient calculés avec une précision quasi optimale.
| | | | |
| --- | --- | --- | --- |
| Mag. | Profondeur | Lieu | Source |
| 4.9 | 96 km | New Guinea, Papua New Guinea | BMKG |
Seismograms
Seismic station: Port Moresby, New Guinea (PMG/IU network)
| Distance from quake: 666 km / 414 mi |
Show on map
|
Station Info
Seismogram (vertical component) around time of quake. Thin dotted red line indicates time of quake. Seismic waves arrive some time later, depending on distance. Source:
IRIS Buffer of Uniform Data (BUD) webtool
Témoignages pour ce séisme
There are no user reports for this quake.