Séisme faible mag. 3.5 - 176 km au nord-est de Kotzebue, Arrondissement de Northwest Arctic, Alaska, États-Unis, mercredi, 5 mai 2021 10:04 (GMT -8)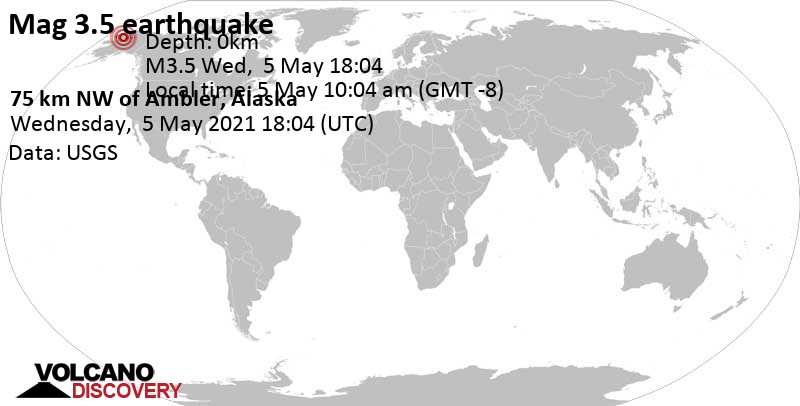 Séisme faible magnitude 3.5 à 0 km de profondeur
5 May 18:10 UTC: Premier à signaler: USGS après 6 minutes.
Update Wed, 5 May 2021, 18:15
Magnitude 3.5 earthquake strikes near Ambler, Northwest Arctic, Alaska, USA
3.5 quake 5 May 10:04 am (GMT -8)
A magnitude 3.5 earthquake near Ambler, Northwest Arctic, Alaska, USA, was reported only 11 minutes ago by the United States Geological Survey, considered the key international and national agency that monitors seismic activity in the US. The earthquake occurred at a very shallow depth of miles beneath the epicenter in the morning on Wednesday 5 May 2021 at 10:04 am local time. The exact magnitude, epicenter, and depth of the quake might be revised within the next few hours or minutes as seismologists review data and refine their calculations, or as other agencies issue their report.
A second report was later issued by the European-Mediterranean Seismological Centre (EMSC), which listed it as a magnitude 3.5 earthquake as well.
According to preliminary calculations, we do not expect that the quake was felt by many people and did not cause any damage. In Ambler (pop. 270, 47 miles away), the quake was probably not felt.
Données pour le même séisme indiquées par différentes agences
Info : Plus les agences signalent le même séisme et publient des données similaires, plus vous pouvez avoir confiance dans les données. Il faut normalement jusqu'à quelques heures pour que les paramètres sismiques soient calculés avec une précision quasi optimale.
| | | | |
| --- | --- | --- | --- |
| Mag. | Profondeur | Lieu | Source |
| 3.5 | 0 km | 75 Km NW of Ambler, Alaska, USA | USGS |
| 3.4 | 30 km | NORTHERN ALASKA, USA | EMSC |
Seismograms
Seismic station: Redstone River, AK, USA (E19K/AK network)
| Distance from quake: 75 km / 46 mi |
Show on map
|
Station Info
Seismogram (vertical component) around time of quake. Thin dotted red line indicates time of quake. Seismic waves arrive some time later, depending on distance. Source:
IRIS Buffer of Uniform Data (BUD) webtool
Témoignages pour ce séisme
There are no user reports for this quake.