Séisme très faible mag. 2.1 - 18 km à l'ouest de Kale, Hekimhan, Malatya, Turquie, mercredi, 29 juin 2022 22:51 (GMT +3) -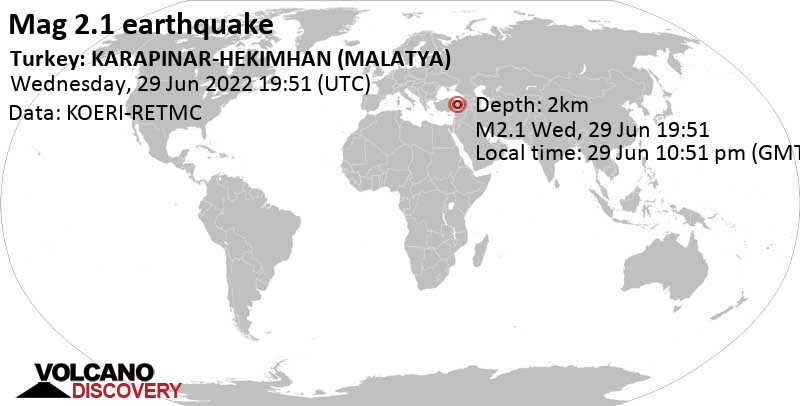 Séisme très faible magnitude 2.1 à 2 km de profondeur
29 Jun 20:01 UTC: Premier à signaler: KOERI-RETMC après 9 minutes.
Détails du séisme
Date et l'heure
29 Jun 2022 19:51:44 UTC -
Heure locale

à l'épicentre

mercredi, 29 juin 2022 22:51 (GMT +3)
Statut
Confirmé
Magnitude
2.1
Profondeur
2.0 km
Épicentre

latitude / longitude

39.0718°N / 37.7917°E (Malatya, Turquie)
Antipode sismique
39.072°S / 142.208°W
Intensité

d'agitation

Secousses faibles près de l'épicentre
Senti
0 rapports
Source de données principale
KOERI-RETMC (Kandilli Oservatory and Earthquake Research Institute in Istanbul)
Volcan le plus près
Erciyes Dagi (212 km / 132 mi)
Lieux à proximité
18 km ONO de Kale (Hekimhan) (pop: 5,170) |

Carte

| Séismes à proximité
24 km NNE de Kuluncak (pop: 8,500) |

Carte

| Séismes à proximité
31 km NNO de Hekimhan (pop: 13,900) |

Carte

| Séismes à proximité
39 km ESE de Kangal (Sivas) (pop: 11,900) |

Carte

| Séismes à proximité
43 km SO de Divriği (Sivas) (pop: 13,100) |

Carte

| Séismes à proximité
64 km NNE de Darende (pop: 20,400) |

Carte

| Séismes à proximité
92 km NNO de Malatya (pop: 441,800) |

Carte

| Séismes à proximité
434 km E de Ankara (pop: 3,517,200) |

Carte

| Séismes à proximité
Météo à l'épicentre

au moment du séisme

Broken Clouds 15.3°C (60 F), humidity: 61%, wind: 2 m/s (4 kts) from NW
Énergie sismique

estimée libérée

8.9 x 107 joules (24.8 kWh) | about seismic energy
Données pour le même séisme indiquées par différentes agences
Info : Plus les agences signalent le même séisme et publient des données similaires, plus vous pouvez avoir confiance dans les données. Il faut normalement jusqu'à quelques heures pour que les paramètres sismiques soient calculés avec une précision quasi optimale.
Seismograms
Seismic station: Bunyan KAYSERI (BNN/KO network)
| Distance from quake: 170 km / 106 mi |
Show on map
|
Station Info
Seismogram (vertical component) around time of quake. Thin dotted red line indicates time of quake. Seismic waves arrive some time later, depending on distance. Source:
IRIS Buffer of Uniform Data (BUD) webtool
Témoignages pour ce séisme
At magnitude 2.1, such a quake wouldn't normally be felt by people except under very favorable conditions.
There are no user reports for this quake.