Séisme modéré mag. 4.3 - Océan Pacifique Nord, 74 km au sud de Zihuatanejo, Guerrero, Mexique, mardi, 2 août 2022 17:03 (GMT -7) -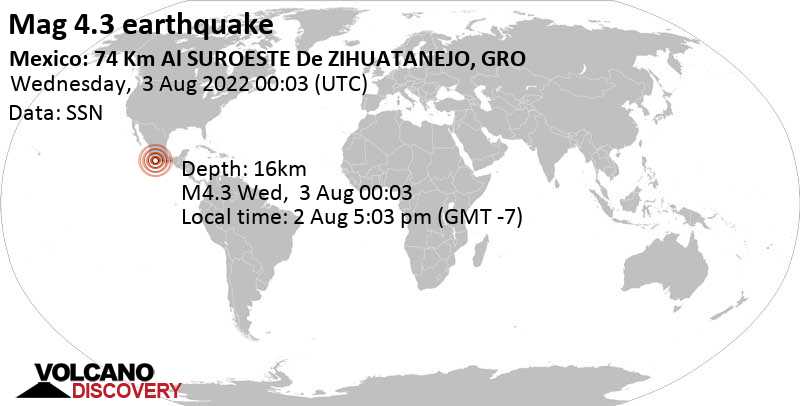 Séisme modéré magnitude 4.3 à 16 km de profondeur
3 Aug 00:26 UTC: Premier à signaler: EMSC après 23 minutes.
3 Aug 00:28: Maintenant en utilisant une nouvelle source de données: SSN
Update Wed, 3 Aug 2022, 00:33
Moderate magnitude 4.3 earthquake 74 km southwest of Ixtapa Zihuatanejo, Mexico
4.3 quake 2 Aug 5:03 pm (GMT -7)
An earthquake of magnitude 4.3 occurred in the afternoon on Tuesday, August 2nd, 2022, at 5:03 pm local time near Ixtapa Zihuatanejo, Zihuatanejo de Azueta, Guerrero, Mexico, as reported by Mexico's National Seismological Service (SSN).
According to preliminary data, the quake was located at a shallow depth of 16 km. Shallow earthquakes are felt more strongly than deeper ones as they are closer to the surface. The exact magnitude, epicenter, and depth of the quake might be revised within the next few hours or minutes as seismologists review data and refine their calculations, or as other agencies issue their report.
A second report was later issued by the European-Mediterranean Seismological Centre (EMSC), which listed it as a magnitude 4.3 earthquake as well. A third agency, the citizen-seismograph network of RaspberryShake, reported the same quake at magnitude 4.3.
Towns or cities near the epicenter where the quake might have been felt as very weak shaking include Barra de Potosi (pop. 400) located 69 km from the epicenter, Ixtapa Zihuatanejo (pop. 9,000) 74 km away, Ixtapa Zihuatanejo (pop. 67,400) 74 km away, El Coacoyul (pop. 6,900) 77 km away, San Jeronimito (pop. 6,800) 78 km away, San José Ixtapa (Barrio Viejo) (pop. 8,700) 78 km away, and Petatlan (pop. 21,700) 81 km away.
VolcanoDiscovery will automatically update magnitude and depth if these change and follow up if other significant news about the quake become available. If you're in the area, please send us your experience through our reporting mechanism, either
online
or via
our mobile app
. This will help us provide more first-hand updates to anyone around the globe who wants to know more about this quake.
Détails du séisme
Date et l'heure
3 Aug 2022 00:03:27 UTC -
Heure locale

à l'épicentre

mardi, 2 août 2022 17:03 (GMT -7)
Statut
Confirmé
Magnitude
4.3
Profondeur
16.0 km
Épicentre

latitude / longitude

17.02°N / 101.8°W (Océan Pacifique Nord, Mexique)
Antipode sismique
17.02°S / 78.2°E
Intensité

d'agitation

Secousses légères près de l'épicentre
Senti
0 rapports
Source de données principale
SSN (Servicio Sismológico Nacional)
Lieux à proximité
69 km SSO de Barra de Potosi (pop: 396) |

Carte

| Séismes à proximité
74 km SSO de Zihuatanejo (pop: 67,400) |

Carte

| Séismes à proximité
81 km SO de Petatlan (Petatlán) (pop: 21,700) |

Carte

| Séismes à proximité
82 km SSO de Pantla (pop: 3,920) |

Carte

| Séismes à proximité
115 km SSE de Lazaro Cardenas (pop: 79,200) |

Carte

| Séismes à proximité
118 km SSE de La Orilla (pop: 20,100) |

Carte

| Séismes à proximité
119 km SSE de Las Guacamayas (pop: 38,000) |

Carte

| Séismes à proximité
389 km SO de Mexico (pop: 12,294,200) |

Carte

| Séismes à proximité
Météo à l'épicentre

au moment du séisme

Scattered Clouds 29.8°C (86 F), humidity: 73%, wind: 6 m/s (11 kts) from WSW
Énergie sismique

estimée libérée

1.8 x 1011 joules (49.4 MWh, équivalent à 42.5 tonnes de TNT) | about seismic energy
Données pour le même séisme indiquées par différentes agences
Info : Plus les agences signalent le même séisme et publient des données similaires, plus vous pouvez avoir confiance dans les données. Il faut normalement jusqu'à quelques heures pour que les paramètres sismiques soient calculés avec une précision quasi optimale.
| | | | |
| --- | --- | --- | --- |
| Mag. | Profondeur | Lieu | Source |
| 4.3 | 16 km | Mexico: 74 Km Al SUROESTE De ZIHUATANEJO, GRO | SSN |
| 4.3 | 16 km | Near Coast of Guerrero, Mexico | RaspberryShake |
| 4.3 | 16 km | OFFSHORE GUERRERO, MEXICO | EMSC |
Seismograms
Seismic station: Sierra la Laguna Baja California Sur, Mexico (SLBS/IU network)
| Distance from quake: 1126 km / 700 mi |
Show on map
|
Station Info
Seismogram (vertical component) around time of quake. Thin dotted red line indicates time of quake. Seismic waves arrive some time later, depending on distance. Source:
IRIS Buffer of Uniform Data (BUD) webtool
Témoignages pour ce séisme
There are no user reports for this quake.