Séisme modéré mag. 4.6 - Océan Pacifique Nord, 141 km au sud de Petropavlovsk-Kamtchatski, Kraï de Kamtchatka, Russie, samedi, 27 août 2022 20:20 (GMT +11) -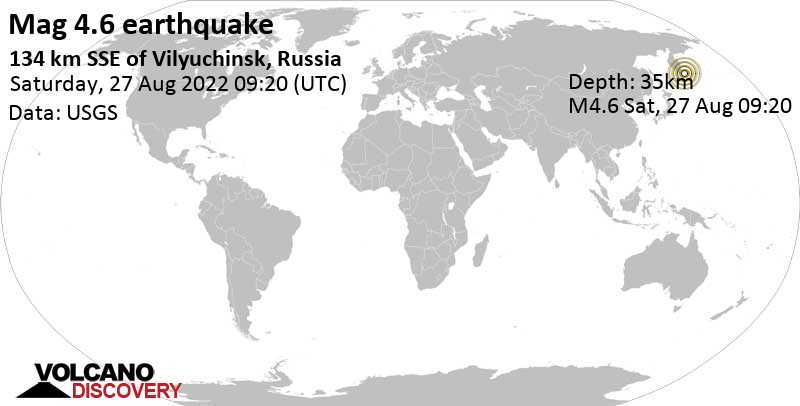 Séisme modéré magnitude 4.6 à 35 km de profondeur
27 Aug 09:38 UTC: Premier à signaler: GFZ après 18 minutes.
27 Aug 09:49: Maintenant en utilisant une nouvelle source de données: USGS
Update Sat, 27 Aug 2022, 09:45
Moderate earthquake of magnitude 4.8 just reported 110 km southeast of Petropavlovsk-Kamchatskiy, Russia
4.8 quake 27 Aug 8:20 pm (GMT +11)
A shallow magnitude 4.8 earthquake was reported in the evening near Petropavlovsk-Kamchatskiy, Kamchatka, Russia.
According to the German Research Centre for Geosciences (GFZ), the quake hit on Saturday, August 27th, 2022, at 8:20 pm local time at a shallow depth of 10 km. Shallow earthquakes are felt more strongly than deeper ones as they are closer to the surface. The exact magnitude, epicenter, and depth of the quake might be revised within the next few hours or minutes as seismologists review data and refine their calculations, or as other agencies issue their report.
Our monitoring service identified a second report from the European-Mediterranean Seismological Centre (EMSC) which listed the quake at magnitude 4.8 as well. A third agency, the citizen-seismograph network of RaspberryShake, reported the same quake at magnitude 4.8.
Towns or cities near the epicenter where the quake might have been felt as very weak shaking include Vilyuchinsk (pop. 25,200) located 103 km from the epicenter, Petropavlovsk-Kamchatskiy (pop. 187,300) 110 km away, and Paratunka (pop. 1,800) 112 km away.
VolcanoDiscovery will automatically update magnitude and depth if these change and follow up if other significant news about the quake become available. If you're in the area, please send us your experience through our reporting mechanism, either
online
or via
our mobile app
. This will help us provide more first-hand updates to anyone around the globe who wants to know more about this quake.
Détails du séisme
Date et l'heure
27 Aug 2022 09:20:24 UTC -
Heure locale

à l'épicentre

samedi, 27 août 2022 20:20 (GMT +11)
Statut
Confirmé
Magnitude
4.6
Profondeur
35.0 km
Épicentre

latitude / longitude

51.8574°N / 159.2484°E (Océan Pacifique Nord, Russie)
Antipode sismique
51.857°S / 20.752°W
Intensité

d'agitation

Secousses légères près de l'épicentre
Senti
0 rapports
Source de données principale
USGS (United States Geological Survey)
Volcan le plus près
Mutnovsky (98 km / 61 mi)
Lieux à proximité
132 km SSE de Vilioutchinsk (Yelizovsky District) (pop: 25,200) |

Carte

| Séismes à proximité
140 km SSE de Paratunka (pop: 1,770) |

Carte

| Séismes à proximité
141 km SSE de Petropavlovsk-Kamtchatski (pop: 187,300) |

Carte

| Séismes à proximité
159 km SSE de Yelizovo (pop: 40,700) |

Carte

| Séismes à proximité
194 km ENE de Ozernovskiy (pop: 2,620) |

Carte

| Séismes à proximité
254 km ENE de Severo-Kuril'sk (pop: 2,420) |

Carte

| Séismes à proximité
318 km S de Mil'kovo (Milkovsky District) (pop: 8,250) |

Carte

| Séismes à proximité
Météo à l'épicentre

au moment du séisme

Overcast Clouds 12.1°C (54 F), humidity: 99%, wind: 4 m/s (8 kts) from SSE
Énergie sismique

estimée libérée

5 x 1011 joules (139 MWh, équivalent à 120 tonnes de TNT) | about seismic energy
Données pour le même séisme indiquées par différentes agences
Info : Plus les agences signalent le même séisme et publient des données similaires, plus vous pouvez avoir confiance dans les données. Il faut normalement jusqu'à quelques heures pour que les paramètres sismiques soient calculés avec une précision quasi optimale.
| | | | |
| --- | --- | --- | --- |
| Mag. | Profondeur | Lieu | Source |
| 4.6 | 35 km | Russia: Off East Coast of Kamchatka | USGS |
| 4.6 | 35 km | Russia: Off East Coast of Kamchatka | RaspberryShake |
| 4.6 | 59 km | Russia: OFF EAST COAST OF KAMCHATKA | EMSC |
| 4.7 | 30 km | 132 Km SSE of Vilyuchinsk, Russia | GFZ |
Seismograms
Seismic station: Magadan, Russia (MA2/IU network)
| Distance from quake: 1007 km / 626 mi |
Show on map
|
Station Info
Seismogram (vertical component) around time of quake. Thin dotted red line indicates time of quake. Seismic waves arrive some time later, depending on distance. Bandpass filter applied: 0.2-5.0 Hz. Source:
IRIS Buffer of Uniform Data (BUD) webtool
Témoignages pour ce séisme
There are no user reports for this quake.