Séisme très faible mag. 2.4 - 62 km au nord-ouest de Christchurch, Canterbury, Nouvelle-Zélande, dimanche, 2 oct. 2022 23:38 (GMT +13) -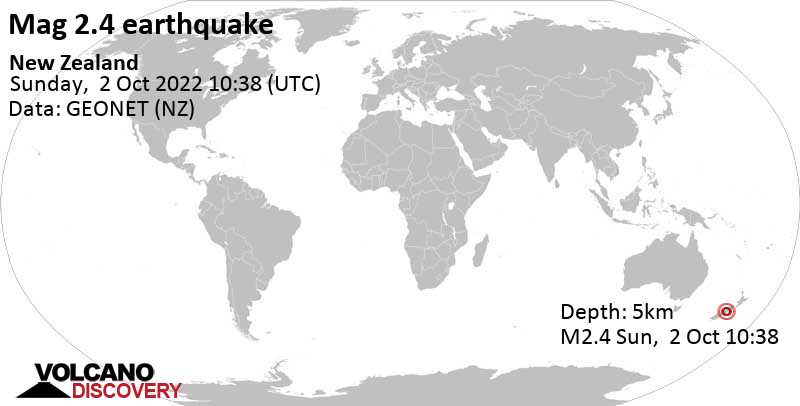 Séisme très faible magnitude 2.4 à 5 km de profondeur
2 Oct 10:40 UTC: Premier à signaler: GEONET (NZ) après 1 minute.
2 Oct 10:41: Magnitude recalculée de 2.3 à 2.4. Profondeur recalculée de 13.7 à 4.5 km (de 8.5 à 2.8 mi). Emplacement de l'épicentre corrigé de 2.8 km (1.7 mi) au NE.
2 Oct 10:47: Profondeur recalculée de 4.5 à 5.0 km (de 2.8 à 3.1 mi).
Détails du séisme
Date et l'heure
2 Oct 2022 10:38:44 UTC -
Heure locale

à l'épicentre

dimanche, 2 oct. 2022 23:38 (GMT +13)
Statut
Confirmé
Magnitude
2.4
Profondeur
5.0 km
Épicentre

latitude / longitude

43.19168°S / 172.03195°E (District de Waimakariri, Canterbury, Nouvelle-Zélande)
Antipode sismique
43.192°N / 7.968°W
Intensité

d'agitation

Secousses faibles près de l'épicentre
Senti
0 rapports
Source de données principale
GEONET (NZ) (Earthquake Commission and Geological Survey, New Zealand)
Lieux à proximité
17 km NO de Oxford (Región de Canterbury) (pop: 1,780) |

Carte

| Séismes à proximité
33 km NNO de Darfield (pop: 1,590) |

Carte

| Séismes à proximité
45 km NO de West Melton (pop: 2,530) |

Carte

| Séismes à proximité
46 km ONO de Rangiora (pop: 18,400) |

Carte

| Séismes à proximité
53 km ONO de Kaiapoi (pop: 10,200) |

Carte

| Séismes à proximité
62 km NO de Christchurch (pop: 363,900) |

Carte

| Séismes à proximité
82 km NNE de Ashburton (pop: 30,100) |

Carte

| Séismes à proximité
310 km SO de Wellington (pop: 381,900) |

Carte

| Séismes à proximité
Météo à l'épicentre

au moment du séisme

Overcast Clouds 0.3°C (33 F), humidity: 97%, wind: 1 m/s (2 kts) from NNW
Énergie sismique

estimée libérée

2.5 x 108 joules (69.8 kWh) | about seismic energy
Données pour le même séisme indiquées par différentes agences
Info : Plus les agences signalent le même séisme et publient des données similaires, plus vous pouvez avoir confiance dans les données. Il faut normalement jusqu'à quelques heures pour que les paramètres sismiques soient calculés avec une précision quasi optimale.
Seismograms
Seismic station: South Karori, New Zealand (SNZO/IU network)
| Distance from quake: 304 km / 189 mi |
Show on map
|
Station Info
Seismogram (vertical component) around time of quake. Thin dotted red line indicates time of quake. Seismic waves arrive some time later, depending on distance. Bandpass filter applied: 0.5-10.0 Hz. Source:
IRIS Buffer of Uniform Data (BUD) webtool
Témoignages pour ce séisme
At magnitude 2.4, this quake might have been felt very close to the epicenter and under calm conditions.
There are no user reports for this quake.