Semeru volcan
Mise à jour: 29 janv.. 2023 03:52 GMT
-
Stratovolcano 3676 m (12,060 ft)
East Java, Indonesia, -8.11°S / 112.92°E
Condition actuelle: en éruption (4 sur 5)
Last update: 29 janv. 2023 (Volcanic Ash Advisory)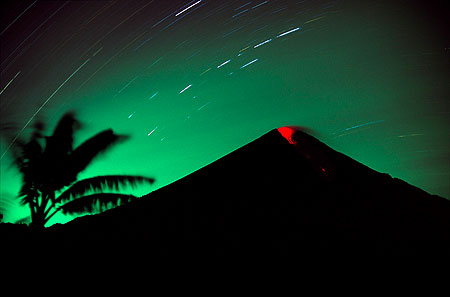 Night time mild eruptions from Semeru
Semeru, the highest volcano on Java, and one of its most active, lies at the southern end of a volcanic massif extending north to the Tengger caldera. Semeru, a favourite mountain trekking destination, has been in almost continuous eruption since 1967. It is known for its regular ash explosions that typically occur at intervals of 10-30 minutes.
Montrer carte interactive
Style éruptif tipique:
Explosive. Near constant strombolian activity, occasionally stronger explosions, lava flows and pyroclastic flows.
Eruptions du volcan Semeru:
1818, 1829, 1830, 1832, 1836, 1838, 1842, 1844, 1845, 1848, 1849(?), 1851, 1856, 1857, 1865, 1866(?), 1887, 1887, 1888, 1889-91, 1892, 1893, 1893-94, 1895, 1896, 1897, 1899, 1899, 1900, 1901, 1903, 1904, 1905, 1907, 1908, 1909-10, 1910-11, 1911, 1912, 1913, 1941-42, 1945, 1946, 1946-47, 1950-64, 1967-ongoing
Derniers séismes proches
No recent earthquakes
Introduction
The steep-sided volcano, also referred to as Mahameru (Great Mountain), rises abruptly to 3676 m above coastal plains to the south. Gunung Semeru was constructed south of the overlapping Ajek-ajek and Jambangan calderas. A line of lake-filled maars was constructed along a N-S trend cutting through the summit, and cinder cones and lava domes occupy the eastern and NE flanks. Summit topography is complicated by the shifting of craters from NW to SE. Frequent 19th and 20th century eruptions were dominated by small-to-moderate explosions from the summit crater, with occasional lava flows and larger explosive eruptions accompanied by pyroclastic flows that have reached the lower flanks of the volcano.
Semeru Photos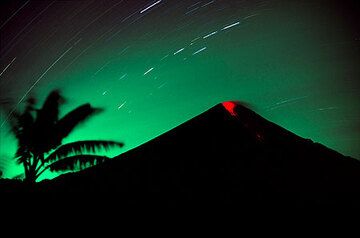 Erupting Semeru volcano at night (March 2004) - a small explosion expels incandescent bombs that roll down its southern flank. (Photo: Tom Pfeiffer)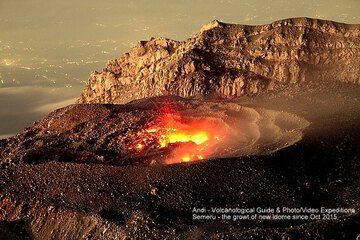 The growing lava dome of Semeru volcano in early November 2015. (Photo: Andi / VolcanoDiscovery Indonesia)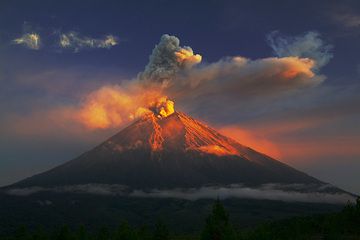 Eruption at Semeru volcano (East Java) in the golden morning light (Photo: Tom Pfeiffer)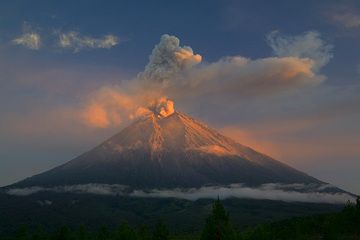 Golden morning light hits the upper slopes and parts of the ash plume from Semeru volcano. (Photo: Tom Pfeiffer)




See also: Sentinel hub | Landsat 8 | NASA FIRMS
Voyages au volcan Semeru