Sunset Crater volcan
cinder cone 2447 m / 8,028 ft
Arizona, Canada and USA (mainland), 35.37°N / -111.5°W
Condition actuelle: normal / en sommeil (1 sur 5)
Last update: 6 Jun 2015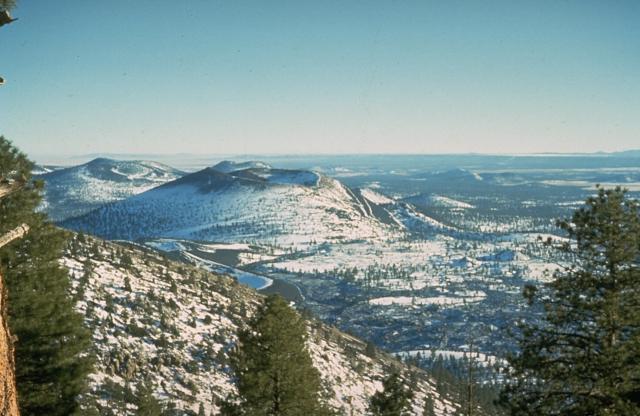 Sunset Crater in northern Arizona is one of the youngest volcanoes in the USA. It is named for its brilliantly colored scoria deposits on the cone and only one of more than 550 vents of the vast San Francisco volcanic field.
The last eruption took place sometime between about 1080 and 1150 AD.

In the late 1920s, a Hollywood filmmaker planned to use Sunset Crater as movie set and use dynamite to simulate an eruption, but local resistance stopped these plans.
Montrer carte interactive
Style éruptif tipique
: strombolian
Eruptions du volcan Sunset Crater
: A.D. 1064 or 1065 (dendrochronology) OR around 1100 AD
Latest nearby earthquakes
| | | | |
| --- | --- | --- | --- |
| Heure | Mag. / Profondeur | Distance | Lieu |
Introduction
The eruptions forming Sunset Crater cinder cone were initially considered from tree-ring dating to have begun between the growing seasons of 1064-1065 AD; however, more recent paleomagnetic evidence places the onset of the eruption sometime between about 1080 and 1150 AD.
The largest vent of the eruption, Sunset Crater itself, was the source of the Bonito and Kana-a lava flows that extended about 2.5 km NW and 9.6 km NE. Additional vents along a 10-km-long fissure extending SE produced small spatter ramparts and a 6.4-km-long lava flow to the east.
The Sunset Crater eruption produced a blanket of ash and lapilli covering an area of more than 2100 sq km and forced the abandonment of settlements of the indigenous Sinagua Indians.
---
Sources:
GVP Sunset Crater volcano information
Arizona Handbook
See also:
Sentinel hub
|
Landsat 8