Tajumulco volcan
Mise à jour: 8 août. 2022 11:17 GMT -
Refresh
Stratovolcano 4220 m / 13,845 ft
Guatemala, 15.03°N / -91.9°W
Condition actuelle: normal / en sommeil (1 sur 5)
Montrer carte interactive
Style éruptif tipique:
unspecified
Eruptions du volcan Tajumulco:
unknown, no recent eruptions
Derniers séismes proches:
Heure
Mag. / Profondeur
Distance/Lieu
jeudi, 4 août 2022 GMT (1 séisme)
4 août 2022 02:44 (GMT -6)

(4 août. 2022 08:44 GMT)




4.3


62 km
142 km (88 mi)
Mexico: 43 Km Al Suroeste De Mapastepec, México
samedi, 30 juillet 2022 GMT (1 séisme)
30 juil. 2022 12:26 (GMT -6)

(30 juil.. 2022 18:26 GMT)




4.4


17 km
308 km (191 mi)
Mexico: 90 Km Al Sureste De Salina Cruz, México
Introduction
Tajumulco is Guatemala's highest peak and the highest volcano in Central America. Two summits, one with a 50-70 m wide crater, lie along a NW-SE line. A lava flow from the 4220-m-high NW summit traveled down a deep valley on the NW flank. The andesitic-dacitic volcano was constructed over the NW end of a large arcuate SW-facing escarpment of uncertain origin. Tajumulco has had several unconfirmed reports of historical eruptions. Sapper (1917) considered Tajumulco to have erupted during historical time, but without accurate dates. The volcano was reported to eject many rocks, destroying houses on October 24, 1765, but this may have been a rock avalanche. Juarros reported some eruptions before 1808, and there are unlikely reports of eruptions in 1821 (or 1822), 1863, and 1893 (Incer 1988, unpublished manuscript).
---
Smithsonian / GVP volcano information
Tajumulco Photos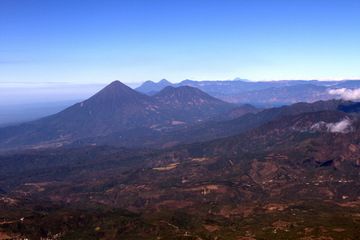 Vue panoramique depuis le cône volcanique du FUEGO avec au milieu (de gauche à droite) les volcans San PEDRO, TOLLIMAN, la Caldeira ATITLAN avec son lac bleu et dans l'ar...

See also: Sentinel hub | Landsat 8 | NASA FIRMS